It's the last few hours in the experiment and I am stressed out. I did not think it would all happen so fast!
And THE WAY IT HAPPENED!
Anyone, two more episodes and then it's the Winter Hiatus! According to IMDb, we'll come back with The Good Place on January 9th 2020!
But for now, let's get into it!
---
It's the end of the year and they are throwing a party whose theme is: "One Year down, Infinity to Go".
Oh and as soon as the experiment is over Janet will be eating her Janet-Babies. Violently.
On top of everything, Michael is obsessed with lame magic tricks and Eleanor is not having it. He even has a name! The Magnificent Doctor Presto.
It's super dumb and I love it.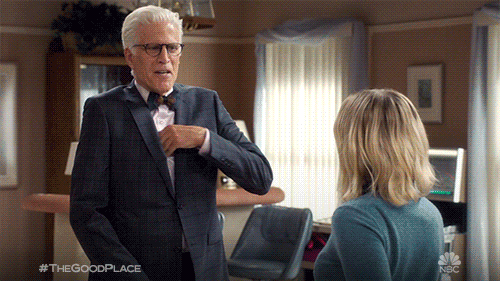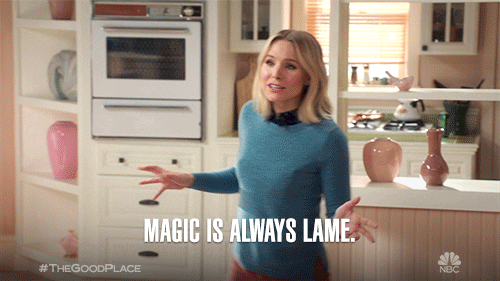 And just as everybody is ready for the party: Simone takes out a board filled with index cards and announces that something is wrong with the Neighborhood.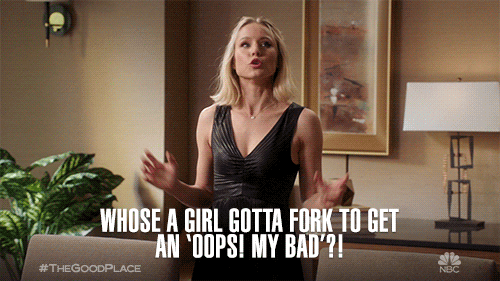 Chidi and Simone's nicknames are sickening and CHIDI AND ELEANOR BELONG TOGETHER. Simone's suspicions are confirmed when John reveals who Jason really is and she figures out about the experiment!
On top of that, Brent tells them about "The Best Place" and of course, nobody fucking believes him. He literally has no idea how horrible he truly is.
The Soul Squad is terrified and Simone's data collection has impacted her points! Chidi tells her about soulmates and seeing his little excited face only to have his feelings crushed by Simone's rationality was sad.
We hope that our early successes make up for the embarrassing mess we've become. Like Facebook or America.

Eleanor
I love it when they do this kind of social commentary.
Also… THIS HAPPENS!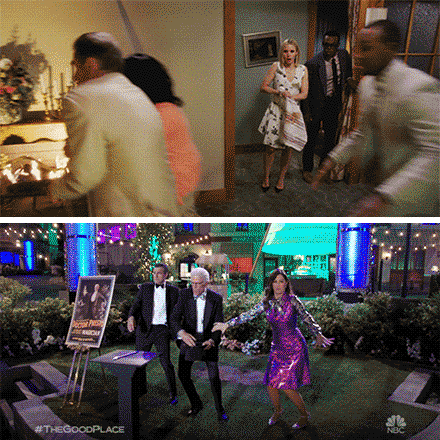 Chidi is the only one who stays behind to help Brent get out of the sinkhole and… he gets stuck too!
Also, JASON MAKES AN ARGUMENT THAT IS PERTINENT AND LOGICAL. TWICE! TWO ANALOGIES! I love him. And then he saves the day! By giving Eleanor a great idea!
You're not going to the Best Place! Don't you get it? They're torturing you. They're torturing all of us! Because this is the Bad Place.

Chidi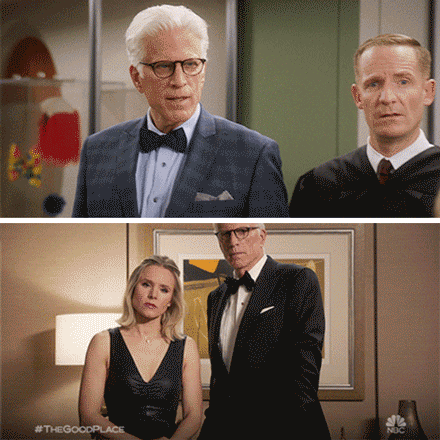 They tell them they are actually in The Bad Place and that they're sending them there.
But just when Brent is about to apologize after Chidi bluntly told him: "You're a bad person", the experiment is over.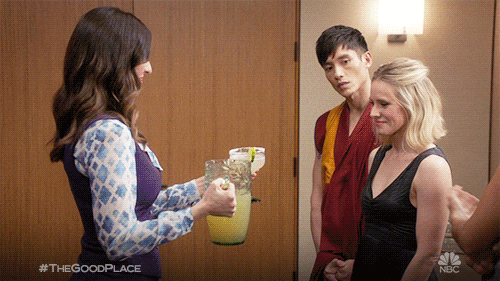 Honorable Mentions
Tahani's name-drops: Sting, Princess Kate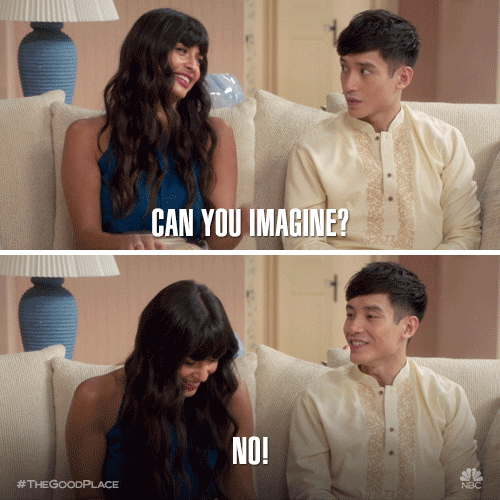 Here's a trippy little ditty 'bout a train to Groovy City. Open up your freaky crystal mind and we'll have a cosmic good time

Michael's Song
Janet's sparkly dress was GORGEOUS!
---
I honestly don't know what is going to happen next and I love it. I am so scared for everyone and I just want a happy ending for them.
I still haven't caught up on The Good Place The Podcast because I've had too many new episodes to listen to and far too many tv shows to watch but I'll try my best. Have you heard anything interesting in it you'd like to share?
Tweet at me, find me on Tumblr or send me an email.
xxx
Georgia