And we're in The Bad Place! And the neighborhood is falling apart! I'm having so much fun watching the Soul Squad trying to improve the lives of these new humans…
… but my heart is breaking for Eleanor's pain. Kristen Bell was magnificent in conveying the character's emotions. She is GREAT in this season!
---
Vicky is still going on about her "acting" and her "method" and she's the worst. So obviously I love her.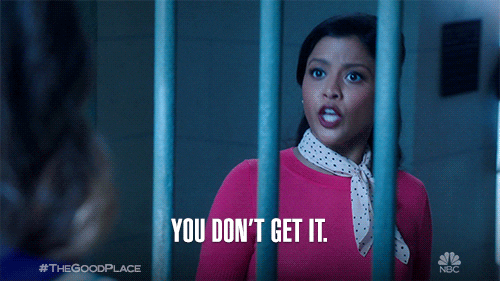 Jason is so pretty and so fuking dumb. Instead of being scared he and Michael are in The Bad Place, surrounded by demons and all that is evil, he is scared his relationship with Janet might be different now.
In the neighborhood, Eleanor is hosting a "live life as you did on Earth" and the humans are going to a lake house! But Chidi doesn't feel like going! Moreover, Derek can't handle managing the neighborhood on his own.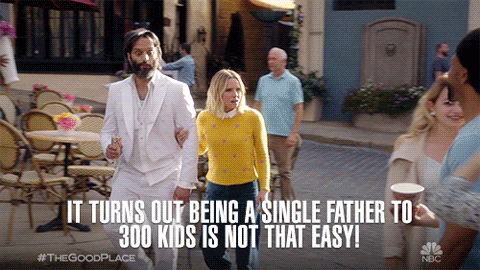 Tahani gets assigned to keep the humans entertained despite feeling like she isn't doing enough and that she doesn't have a real purpose in the experiment. I felt sad for her. It's not a great feeling. She just wants to be useful.
Eleanor tries to keep Chidi in his own apartment so he doesn't see the chaos outside and she makes up a weird scavenger hunt/puzzle he has to solve and he is delighted!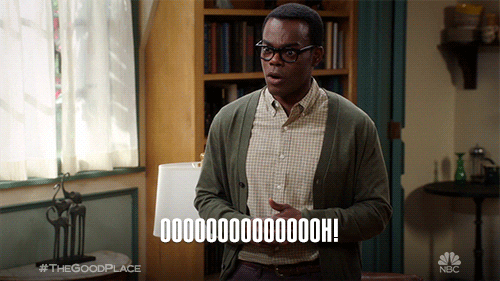 Somehow, Tahani keeps interfering and making things worse: she even kills him and… everything is bad!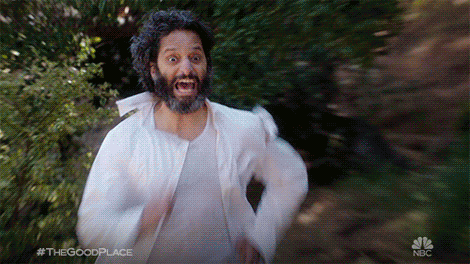 In The Bad Place, Shawn is hosting a "Torture of the Future" conference and gets on stage and pretends to be Vicky pretending to be Michael so he can get to Janet and free her. They almost fool him until Vicky appears!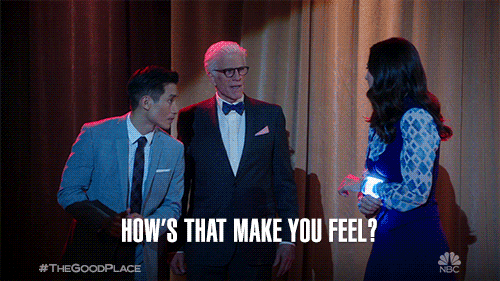 My favourite part of the episode was definitely Eleanor reassuring Tahani that she is useful and a fundamental part of the Squad.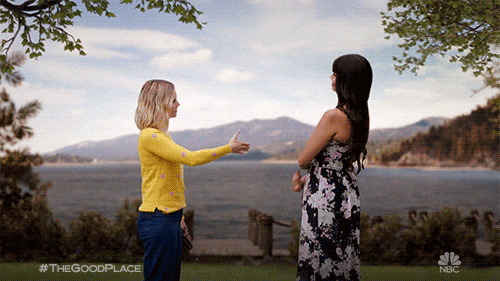 Luckily, Michael, Jason, and Janet manage to escape The Bad Place and go back to the neighborhood! Jason even reassured Michael that he is not a demon anymore, that he isn't a bad person and it was such a cute moment!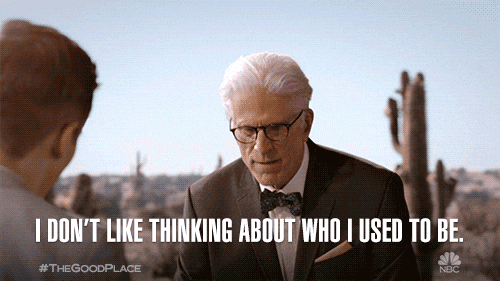 But CHIDI IS WITH SIMONE AND ELEANOR'S FACE WHEN THEY KISS WAS DEVASTATINGLY DEPRESSING!
That is so sad and it broke my heart.
Honorable Mentions
Tahani's name-drops: None?
Derek is drinking a champagne glass full of scrabble letters.
"Insert me, Coach Man!" – Tahani
In the wall of "Employee of the Bearimy", there's a picture of a panda bear! Like… WHY!?!
What in the name of Kevin Spacey's self-made Christmas Eve video message to try to get back on "House of Cards" is going on here?

Shawn
---
Only 8 episodes left and I hate that this is the last season.
Tweet at me, find me on Tumblr or send me an email.
xxx
Georgia