This show never fails to make me smile. And it teaches me stuff. What else could I possibly want more?
I must admit: I am a little bit behind on the podcasts: IT HAS BEEN A WEEK FOR ME. A WEEK. PODCAST and BOOK RELATED WEEK AND I AM STILL NOT OVER IT.
But this is not about my 3-day-long emotional meltdown, it's about this wonderful piece of American television.
And it's just as heartbreaking. But in a sad way.
---
Chidi's study group is starting this week and Eleanor is feeling lots of emotions: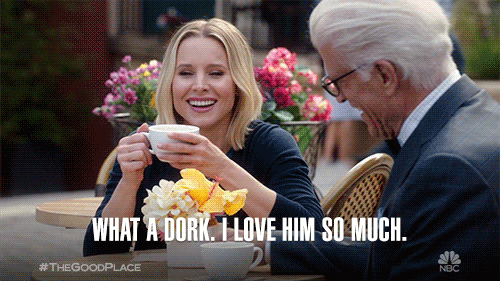 The problem is: Chidi is chillaxing! (Oh and Brent is still a huge ashhole). Michael and Eleanor are forced to get him into stressful situations: he is so chillaxed because he doesn't have any doubts about how good of a person he was on Earth.
And the torture starts again!
Meanwhile, Janet has dyed her hair pink, Avril Lavigne's style and Tahani believes she has cracked the code to help John get better: welcome him into the life of the rich and powerful people he seems to envy so much.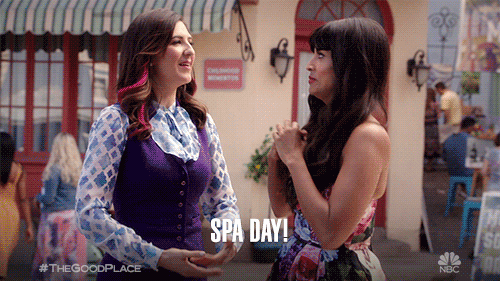 Tahani tries to make "studying ethics" the new thing all the celebs were obsessed with, as a way to get John interested in it. That was a clever move I honestly hadn't thought about!
But it turns out John does not give a shirt about it.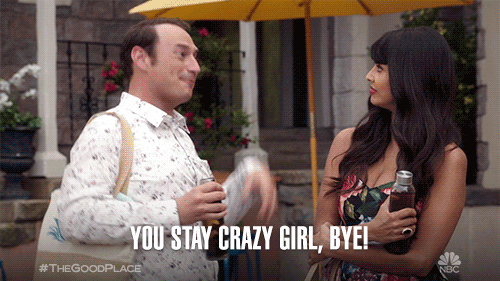 Jason is making less sense than usual and he looks depressed. HE IS SO ADORABLE! And so freaking dumb. He is back being Jianyu and Chidi is tasked by Eleanor to help him adjust to the neighborhood. And then Jason tells him the truth and gets a new Bud-Hole, Chidi's stomachaches are making his life miserable.
I LOVE THAT ELEANOR AND MICHAEL COLOR-COORDINATED THEIR OUTFITS! I STAN A DEMON AND A TRASHBAG FROM ARIZONA!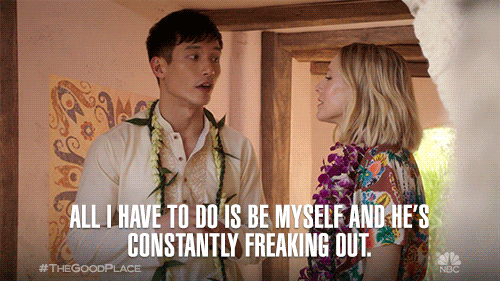 Eleanor is too focused on torturing Chidi that even Jason asks her to lay off of him for a little while.
Tahani has a heart to heart with John but he throws back in her face that she was privileged and entitled.
Chidi takes the fault for Jason's motorcycle with Pamela Anderson's boobs on it and Eleanor keeps pushing and pushing.
I loved that she started crying when Chidi told her and Michael his feelings. I was an incredible scene.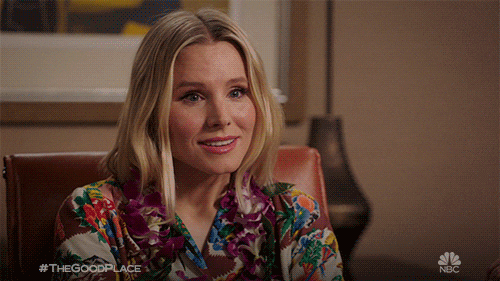 Kristen Bell's performance was AMAZING!
We have a very simple solution for problems: we eliminate them!

Michael
I wish real life worked like this! With a wave of his hand:
Poor Jason
Tahani figures out how to connect with John: be honest about her own life, how lonely and sad she was, just like him. It was such a nice moment between the two of them, especially because he apologized for bullying her when they were both alive.
Eleanor finally shares why she's been so eager to torture him: he was angry at him for sacrificing himself for all of them. She feels angry, alone, abandoned and it's just so forking SAD.
BUT PLOT TWIST!
A dark figure on the horizon! Coming to The Good Place! I was really surprised by this and I cannot wait to see how all of this is going to unfold!
Honorable Mentions
Tahani's name-drops: Victoria Beckham, Oprah, Robbie Williams, Heidi Klum, the remaining members of Firth Harmony, Timothy Chalamet, Jacob Tremblay, Blake Lively, Leonardo di Caprio, Paul Allen
8 characters on Game of Thrones are based on Tahani
Apparently, Natalie Portman does all Scarlett Johanson stunts.
I loved that Janet was angry on behalf of Tahani for how John had been treating her: "I'm fired up. You've just been very nice to him and I don't like the way he's been treating you." I LOVE THIS FRIENDSHIP!
---
If you threw a rock into the fire and the thing you most desire will appear, what would that be?
Tweet at me, find me on Tumblr or send me an email.
xxx
Georgia