Catch up on my The Good Place series: season 1, season 2, episode 3, episode 4, episode 5, episode 6, episode 7, episode 8, episode 9, episode 10 and episode 11!
Now… everything is fine!
---
A LOT happens in this episode: we find out The Good Place's IHOP stands for "Interdimentiona Hole of Pancakes" and that a thing such like "the niednagel" exists.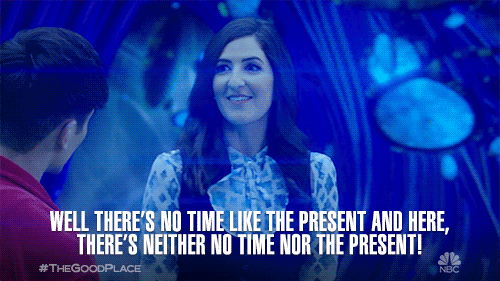 One of the purest relationships on this show is Jason and Janet. It was so funny to see her correct him about her not being "a girl" even when he is asking her to be his girlfriend. It was so sweet.
But the Judge is here and her obsession with Chidi is just as hilarious as it is creepy.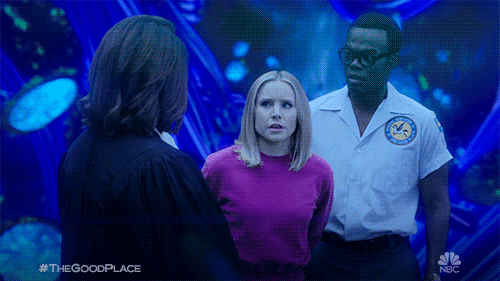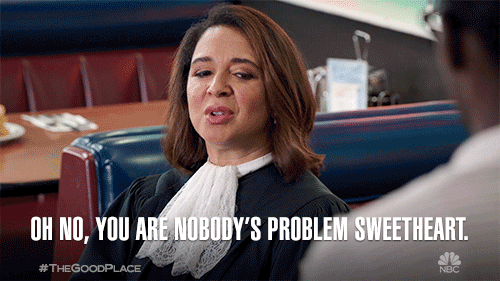 Michael and the gang try to explain to The Judge how impossible it is to be sent to The Good Place nowadays and how complicated society and Earth really is.
After she visits Earth and comes back in just the blink of an eye, the Judge speaks the truth: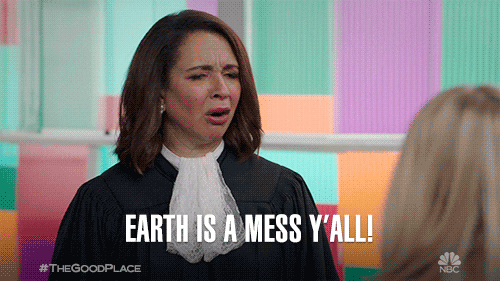 And yet, the Judge is not too convinced about what Michael is telling her. So guess who gets teleported in, right while he was torturing Shakespeare by telling him the plot of Entourage?
SHAWN!
Not even flossing can distract the Judge from all of this.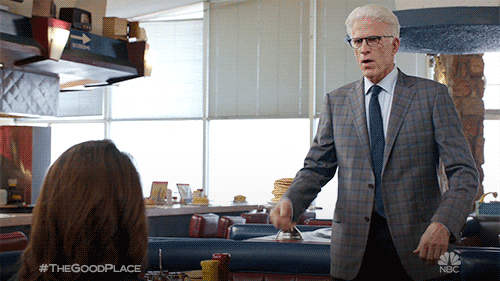 But they reach a sort of agreement: repeat the experiment. Michael believes the point system doesn't take into consideration unintented consequences and that it is possible, in a perfect system to improve an to become better people.
So they decide to take 4 people who are just as bad as the four humans and to use them to replicate the experiment.
The problem is… where are they going to build the new neighbourhood? And who is going to live there?
The solutions? Mindy St. Clair's backyard and Janet Babies. And Derek is back! A more-evolved-than-ever Derek!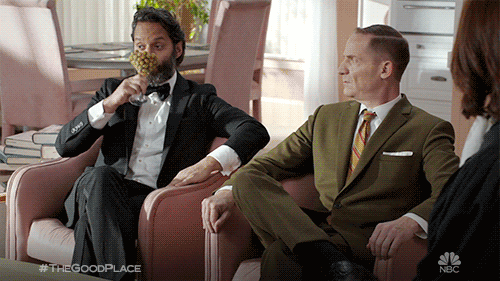 So, they finally reach an agreement and it all starts coming together.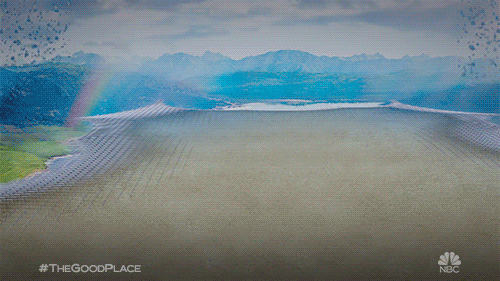 But Shawn can't leave it alone: he threatens Michael. He tells him they have built a Michael-Suit and that, if the experiment fails, the humans would think Michael is torturing them in The Bad Place.
Hearing Marc Evan Jackson say: "Mmmmm… BYE BITCH!" was the highlight of the episode. I need to finish every conversation with my sister like this. I love it.
But just as Michael is about to welcome the first person, he gets a panic attack and… WHAT'S GONNA HAPPEN NEXT?!?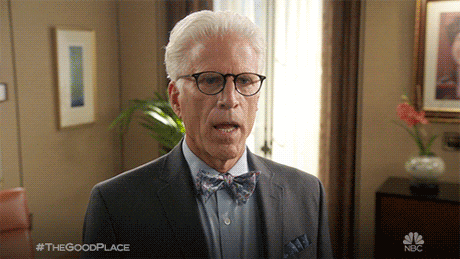 JK I know what's gonna happen. I've seen the episodes before! What a jokester.
---
Honorable Mentions
Tahani's name-drops: Diane Von Fustenberg
Every single thing Jason Mantzoukas said
"Paraguai" said by the legend that is Maya Rudolf.
Eleanor calling Chidi her "boyfriend"
Calling the Niednagel after David Niednagel, the person who does all the special effects on the show.
---
This episode was AMAZING! So much happened and so many iconic and hilarious moments are in here, like Jason drinking a Martini that is just olives and Jason saying someting coherent. It was great.
See you next Thursday for the last review before the season 4 premiere!
Tweet at me, find me on Tumblr or send me an email.
xxx
Georgia