WE ARE IN THE GOOD PLACE!!!
THE ACTUAL GOOD PLACE!
I can't believe we're finally here! And it's all so positive!
Catch up on my The Good Place series: season 1, season 2, episode 3, episode 4, episode 5, episode 6, episode 7, episode 8, episode 9 and episode 10!
Now… everything is fine!
---
They're in The Good Place's Mail Depo! And of course, Eleanor has a thing for mailmen.
And for once, they're getting political!
"We're refugees. What kind of messed up place would turn away refugees?"

Jason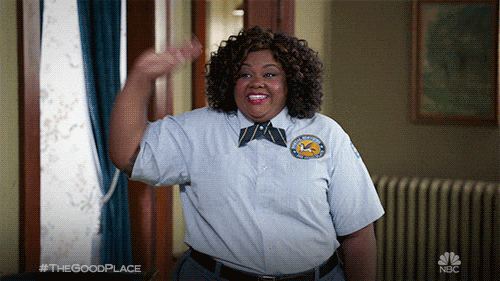 NICOLE BYER is here! And she totally believes all the lies Michael tells her, even the one that the humans have won a contest to be there. Michael tricks her into telling him how to contact a committee about his findings.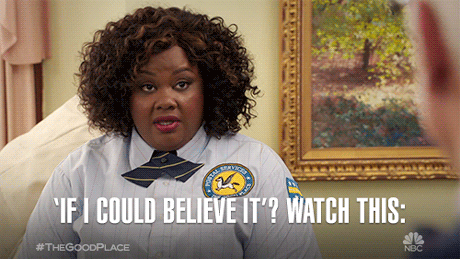 And they are exhaustingly kind, polite and smiley. Michael explains to them that no one has gotten into The Good Place in 500 years. They even have a person to only give you compliments!
The problem is: it's going to take 400 years to JUST form a team to investigate the matter.
"We're the good guys. We can't just do stuff."
Eleanor tries to open a door to The Good Place: "We're four oreos from heaven!!!" and Chidi takes her on a date which is SUPER ADORABLE.
He even wears a mailmen uniform that makes her cry.
Jason is conflicted about what he saw about him and Janet in the void and Tahani pushes him to talk to her with honesty:
"It's nice to know I can talk about girls with my wife."

Jason
But Janet doesn't want to talk to him, and she's about to burst into a million pieces. She's not equipped to feel all of those emotions. Tahani makes a "Dead Did Us Part" to un-do her marriage to Jason but it does not go down well.
Without even realizing it, Tahani helps Michael figure out what the actual problem is: Unintent
ded consequences.
"The Bad Place isn't tampering with the points. They don't have to. Because every day the world gets a little more complicated and being a good person gets a little harder."

Michael
And Tahani and Janet confess how much they love and care for each other even making Jason cry!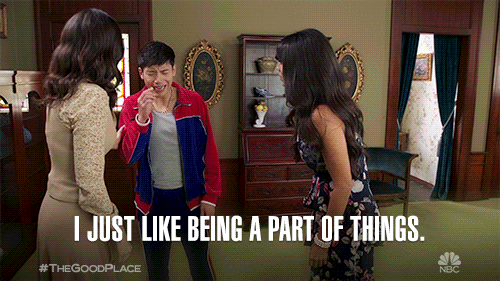 But Gwendolyn sees them and gets suspicious: two humans and a neutral Janet should not be crying in The Good Place.
And after Eleanor and Chidi announce they had sex in a closet, Michael appears and reveals to everyone that he has called the Judge and that she's waiting for them in the IHOP: the Interdimensional Hole of Pancakes.
---
Honorable Mentions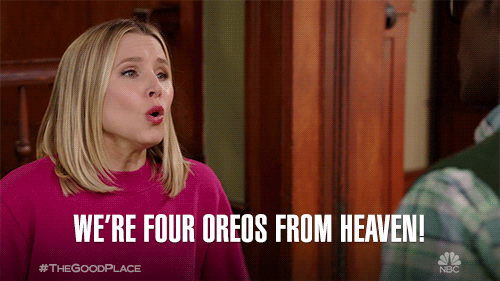 The Good Place smells like the thing that makes you the happiest.
---
From Eleanor's take on relationships to Chidi in a mailman outfit and Tahani's meddling into Jason and Janet's love life, this episode was completely insane and knowing what's coming up next, it's about to get even crazier.
See you next Thursday for a new review!
Tweet at me, find me on Tumblr or send me an email.
xxx
Georgia