Another review is here!!!
I hope you're enjoying these reviews! I'm having a lot of fun writing them!
Catch up here! Season 1, Season 2, episode 1-2, episode 3, episode 4 and episode 5!
Now.. let's go to Florida!
---
Chidi asked for a sabbatical and… well, they fired him.
J: Actually, none of your exes have ever gotten over you.

E: You're damn right they didn't.

Janet and Eleanor
And JANET DOING HER OWN "BING!"
THAT WAS SO FUNNY! D'ARCY PLAYED IT BEAUTIFULLY!
and then she said: "Don't… Turn around. It's embarrassing." when walking away. But she offered to create a virtual reality where he could practice break-up scenarios so that he can end this relationship with Simone in the best possible way.
Tahani and Michael accompany Jason to Jacksonville to see some loved ones and possibly help them change their lives and eventually get into The Good Place.
He wants to help his dad about whom we know nothing about… That is until we realize that Jason's dad is actually the Donkey Doug in all his crazy stories.
AND THAT'S INSANE.
But their goal is to get Donkey Doug to get his electrician license and be legit, instead of falling for get-rich-quick schemes and stuff like that.
Immediately after, like literally 2 seconds after we meet Donkey Doug it gets perfectly clear that they are father and son.
Both of them are so dumb.
"Me and Jason are cool like that. I don't think of him as my son. I think of him as my boy! […] but it's more like "That's my son right there, son. But not like, "Son, son. But like, "My boy." But not like…"

Donkey Doug
Donkey Doug even tries to flirt with Tahani! WITH JASON'S HELP!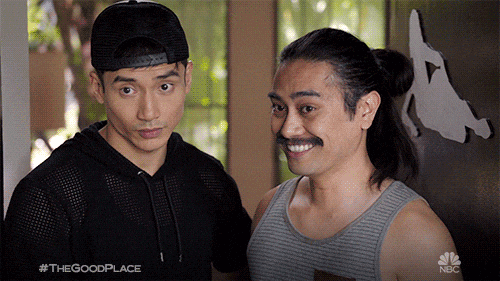 Back in Australia, Eleanor is being a pervert.
J: Why is it that every time a new thing is invented, human immediately try to use it for porn?

E: Because we're disgusting

Janet and Eleanor
Chidi gets thrown into this virtual reality and we see the extent of how socially incompetent he really is.
Back in Florida, PILLBOI IS IN THE BUILDING!
He and Donkey Doug have come up with a new product and it's basically an energy drink and a body spray.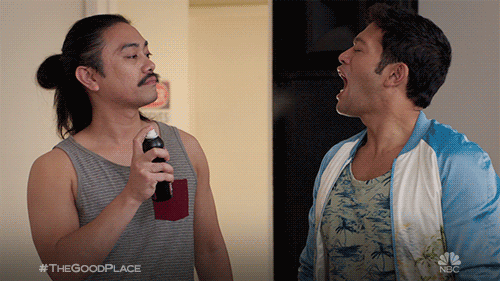 Like… HOW?!
And Jason obviously thinks it's a brilliant idea.
BUT WAIT! MY FAVOURITE PART OF THE EPISODE!
Chidi is having trouble breaking things off with Simone in the virtual reality and Eleanor comes up with a solution:
E: Maybe just tell her you're gay.

C: I'm not gay.

E: Fine. Bi!

C: I'm not bi either.

E: Why not? More guys should be bi. It's 2018! It's, like, get over yourselves!

Eleanor and Chidi
YES YES YES!!! I 100% AGREE. MORE GUYS SHOULD BE BI!
And it rhymes!
ELEANOR FLIRTING WITH SIMONE!!!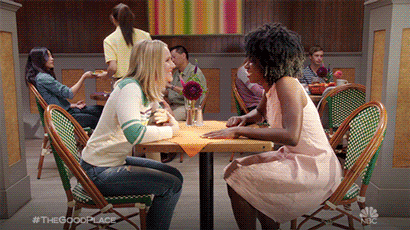 Despite Jason's interference, Donkey Doug is still planning to rob not one, not two but three factories to make his product. So Jason, Tahani and Michael decide to help them save PillBoi instead of Donkey Doug.
Chidi telling Simone: "Ya Dumped" in true Eleanor fashion was horrible. I truly felt sorry for her!
AND PILLBOI IS CALLED PILLBOI BECAUSE HE WORKS IN A RETIREMENT HOME AND GIVES PILLS TO THE PATIENTS!
Why is this so perfect?!?
DD: Pillboi?

J: No, it's me. Pillboi's friend Jason.

Donkey Doug and Jason
THESE TWO ARE FATHER AND SON!!!!
Chidi finally ends his relationship with Simone in a decent way. It was a bittersweet moment.
THEY TRICK PILLBOI INTO BELIEVING THEY ARE FROM NASA!!!! SECRET ASTRONAUT SPIES!!!
The Handshake!!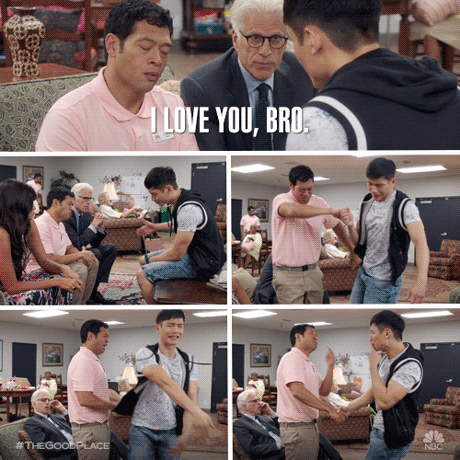 BUT PLOT TWIST! ONE OF ELEANOR'S PARENTS ISN'T DEAD. HER MOM IS ALIVE!
---
I loved this episode, especially because we got to know a lot more about Jason's life in Florida and it's just as crazy as we've expected.
And in The Good Place The Podcast, Manny Jacinto talked about how important it was for him to see three Filipinos on screen, talking to each other and interacting in the most normal way possible.
LOVED IT.
Honorable Mentions
Tahani's name-drops: Sting, Elon Musk.
There is an ad at the top of the taxi that gets crushed by the monster truck: The Mindy St Claire Rescue Alliance.
Tahani trying to explain to Donkey Doug he is Jason's father and not the other way around.
Eleanor wants to use the simulator for a specific Lenny Kravitz concert. Wink wink. *eggplant emoji*
---
That's it! I hope you liked it! Let me know your thoughts!
Tweet at me, find me on Tumblr or send me an email.
xxx
Georgia