I binged watched season 1 and 2 in January 2018 and I fell head over heels in love with "The Good Place".
I recently talked about season 1 and I have been listening to "The Good Place The Podcast" again.
I've mentioned it SO MANY TIMES on my blog, you're probably tired of hearing it. BUT IT'S SO GOOD. GO LISTEN TO IT.
Speaking of, Mike Schur, TV Comedy God, and creator of "The Good Place", described this was "The Season of Micheal" and we see Ted Danson's character doing a 180 and changing for the better.
This season was so much fun. I loved seeing Michael change and evolve and they had GREAT guest stars like Jason Mantzoukas and Maya Rudolf.
To quote Jonathan Van Ness: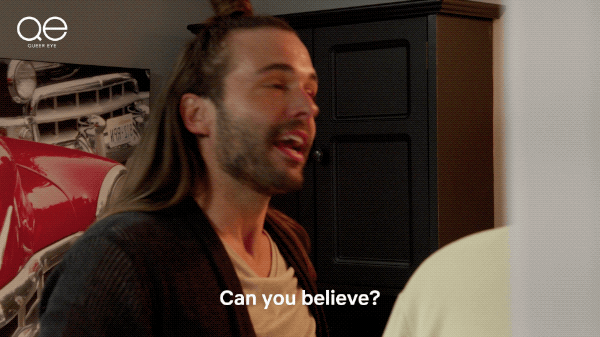 They were absolutely FANTASTIC in it! I LOVED THEM BOTH SO MUCH.
"The Trolley Problem" was one of my favourite episodes. What made me laugh the most was the fact that Michael was still trying to torture the humans despite being on their side.
And William Jackson Harper's facial expressions! Come on! AMAZING! It was such a fun and educational episode that I found myself talking about it in random conversations.
Another 2 episodes close to my heart are "Derek" and "Best Self". The former for obvious reasons: Janet created a boyfriend and said boyfriend was super dumb and portrayed by Jason Mantzoukas. Janet acting human, fighting with Dereck and him calling her "Mommy/Girlfriend" were just some of the highlights.
And "Best Self" represents a great moment: it's just them in the neighborhood and they commiserate together about their faith, they give make Michael an "honorary human", they dance and try to forget that the next morning they would probably all go to the Bad Place.
I am in awe of the fact that this show keeps reinventing itself episode after episode. This season's cliffhanger completely threw me off. The show's premise is that the characters are dead.
AND NOW THEY'RE ALIVE!
The jokes were just as stupid, ridiculous and over the top as ever and I am in love with it.
It was a great season of growth, philosophy and most of all friendship. This is a wonderful piece of American history television, written, directed, produced and acted by fantastic people.
---
Let me know your favourite episode of this season! I can't decide mine!
And get ready for my reviews of all 13th episode of season 3 before the premiere of the last season! I can't believe it's going to be over!
Tweet at me, find me on Tumblr or send me an email.
xxx
Georgia