Scratch Game of Thrones, this was my most anticipated finale ever. the last episode left me shook and I was so scared to watch it.
I have watched this show since its inception and it keeps delivering strong scenes and great character development. This whole season has been building up to some kind of big explosion and in this episode, they let it all out.
I am impressed by everything about this. The acting, the writing, the directing… It's a masterpiece.
And I am not saying it lightly.
---
In the previous episode, we saw Barry leaving his audition (with ALLISON JONES!!!) to run to Gene's rescue.
I truly thought Fuches was going to kill Gene. For a moment I really thought he was about to pull the trigger.
It made more sense he didn't. Fuches is not one to get his hands dirty. He has Barry for that.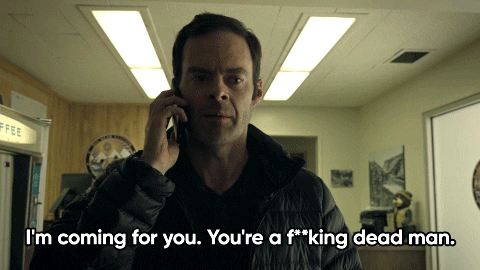 As soon as Barry uttered these words I started trembling. That was scary.
Hank was so excited to move into Esther's monastery! That was so pure! Along with his idea to buy a "heroine table" and the headset!!! But this shopping session gets interrupted by Petyr, who wants him to go back to Checnia.
And so he calls Barry! Who could not give less of a shit. He has his performance at an actual theatre and Gene is prison to worry about.
Speaking of, he is still shocked after having seen Janice's body in the car and being charged with murder.
Henry Winkler was absolutely fantastic. I'm expecting an Emmy nomination this year as well. He was magnificent.
But WAIT! Fuches goes to Hank, thinking he will need protection from Barry.
I loved the scene with Barry in front of the changing room's light, just like in the poster of season 1.
Sally is freaking out about her performance, about telling the truth in front of all those people, of creating art.
Cristobal and Esther have arrived and MY GOD I LAUGHED SO HARD when Fuches started coming down the stair talking and Cristobal couldn't hear him.
They made fun of that TV trope and it was magnificent.
Fuches' speech about Hank and Cristobal not seeing eye to eye and drifting apart was such a clear metaphor for him and Barry.
I LAUGHED SO HARD. SO FUCKING HARD.
Barry has a lot on his plate: Fuches, Gene and the play. And he is not ready to perform and when Sally slaps him, he snaps.
The scene does not go according to plan. Sally doesn't tell the truth, she tells the fake one. She flips the table and starts yelling at him.
It seems to have gone bad, she panicked, she lied, she didn't tell her truth. But the thing is, Hollywood doesn't want the truth. Everybody starts complimenting her, telling her how courageous she was.
It's fucking ironic. She strived to tell the truth, she dug into her past, she confronted her ex-husband to show to the world her story. But that wasn't what people wanted. They don't want the truth.
She wanted to be an artist and tell it like it is. Instead, people started appreciating her false version of her story, they didn't care if it was real or not.
And that's Hollywood.
Going back to Gene for a moment, he's about to be transferred to an actual prison, when the police lets him go. Just like that. Because they found a chechian pin says: "The debt has been paid", a pin that was found on Janice's body. The same pin Hank had given to Barry a couple of episodes ago.
"He was right. I'm pretty sure people can change."

Barry
It feels like Barry is finally at peace with himself. He did the right thing. I mean, he did kill Janice. He just didn't let Gene go to prison.
But when he sees a text from Hank that says: "Fuches is here", he loses his shit.
Gun in this hands, he bursts in, shoots Esther in the head and after shouting "FUUUUCHES!" he starts killing everybody.
Nobody can stand between him and his target.
And it's so graphic, so violent.
In this season and in the previous one we saw Bill Hader's acting abilities but here he truly shines. He was fucking scary.
Despite everything, Fuchs manages to escape and we are left wondering: Is Noho Haank okay?
Yes, he is. But Petys has arrived and sneaky Hank put the bullet he had begged Barry to kill Esther with on her body.
The "Hi Petyr! Hey, man!" made me laugh so much. That and the following uncomfortable laughter. Anthony Carrigan is a comedic force and I love him.
After Barry comes in and sees all the people he has killed, the guys he had helped training dead on the ground with a bullet in their head.
He realizes what he did. He sees that he hasn't changed at all. In spite of all, he was still the same guy he was in Afghanistan.
The metaphor of him going through the physical darkness of the corridor and the abstract one in his mind was spectacular.
WOW. Just WOW.
I'm blown away by this show. I truly am.
But the last scene is the one that leaves us wondering of what's going to happen next.
Gene is finally home and the shock is wearing off just as he remembers something Fuches whispered in his ear back in the woods, right before running away:
Barry Berkman did this.
And then…
Wow. Just wow.
---
I love this show. It has become one of my all-time favourite pieces of television. It's majestic.
I couldn't pass on the opportunity to sneak in Bill Hader's favourite true crime show. Let's see if you can catch the reference.
That's it from me. Last Barry review of the year. I'll definitely be back for season 3 whenever it airs and I'm pretty sure I'll keep talking about the show here on my blog.
Now let's hear from you. I would like to hear your thoughts on this magnificent season so leave me a comment down here!
Tweet at me, find me on Tumblr or send me an email.
xxx
Georgia