I can't believe season 6 is over. I truly can't. This show has brought me so much joy and happiness. And it's still amazing. Six seasons in, it still makes me laugh like an idiot.
And don't worry! It will be back for a 7th season!
I LOVED THIS EPISODE. I LOVED IT. I LAUGHED SO HARD.
---
THE SUICIDE SQUAD IS HERE!
I can't believe all these amazing people came back!!! And the Holt/Wunch insults are still the most hilarious recurring bits.
The Vulture wants CJ to think he is cool and that's just messed up!
Also… JAKE AND AMY KISSED! Off-screen.
"Domestic Peraltiago"
I loved that they acknowledged the fact that they haven't kissed in a year! And Boyle in undoubly their biggest fan.
Holt promises Jake to trust Wunch…but of course he doesn't.
You just said she was a snake.

The devil comes in many forms.

Rosa & Holt
HOLT'S PEARLS OF WISDOME! And he is sure she's going to betray them.
Oh, and Terry is DEEP in denial about being transferred to Staten Island.
But there's a plan: they're going to commit a crime (kidnapping CJ) to unmask Commissioner Kelly's evil plan. I loved that they showed Jake's imagination and they way it was supposed to go.
HOLT IS WEARING A GIMP MASK!!!
And then it all went horribly wrong.
I laughed so hard when CJ started running. I had tears in my eyes. This episode was perfect.
Terry is still in super super denial. And when does wind come from?
Holt even appologizes to her! And they both attend a policemen's ball, as lovers. Ew.
The rest of the squad tries to force CJ to record a fake kidnapping tape and yes, it goes horribly wrong as well. And it's no surprise Hitchcock and Scully have creepy basements.
BUT WUNCH BETRAYS HOLT!
AND THE VULTURE BETRAYS THEM AS WELL!
OR DID THEY?!?
Jake and Wuntch were working together!!! But they couldn't tell Holt: he would have never trusted Wunch!
#ProudDaddy
It seems like there might be a truce between Holt and Wunch… and it literally lasts one second.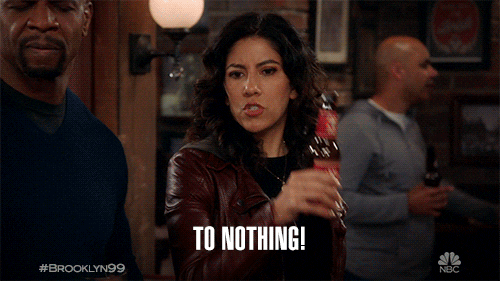 BUT TERRY IS STAYING! Wunch has given more funds to the 99! But, in the middle of insulting Wunch, the Captain had revealed he had been promoted to detective after a month, which was again protocol and Wunch can't rest: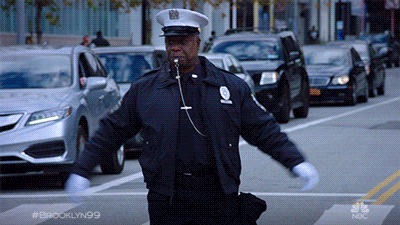 Honorable Mentions
And The Vulture is best friends with the Fyre Festival people.
They acknowledged Jake's little curl and it was perfect. And that's iconic!!!
The Michelle Obama incident
Don't forget to like and subscribe.
The Vulture's dream job: Being the Captain of the 69th precinct.
---
I LOVED THIS EPISODE.
I TRULY DID.
It was a perfect season finale, they brought back fan favourite guest stars and it was unbelievably funny from beginning to end.
Since this is my last review of the season, I wanted to take a moment to thank the writers, the producers, the crew and the cast.
Thank you for creating another season of this masterpiece. To quote the Coucil of the Cousins of the Boyle Family,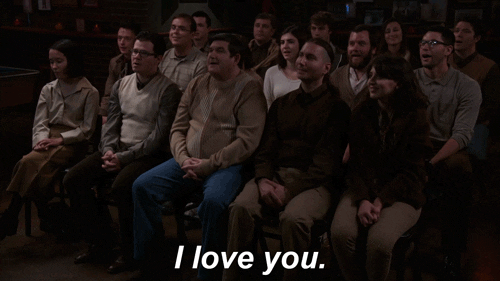 Tweet at me, find me on Tumblr or send me an email.
xxx
Georgia