"It's gonna end right"
said Chris Geere talking about the ending of this magnificent show. I have reviewed every single episode of this final season and I've come to the conclusion that I love this show more than ever.
This was a perfect finale.
It was. It was amazing. They even managed to answer all the pending questions we've had from all the snippets in the previous 12 episodes.
I loved every single minute of this final episode and I was on the edge of my couch for all 25 minutes.
I was terrified they were going to get a horrible ending, no matter how much faith I had in the creator (Stephen Falk) and the writers.
Endings are tricky! You never know what's going to happen! But this was perfect.
---
It seems like the wedding is perfect. From the location to the drinks (Jimlet and Gretcharita) to the food. Jimmy is on top of everything.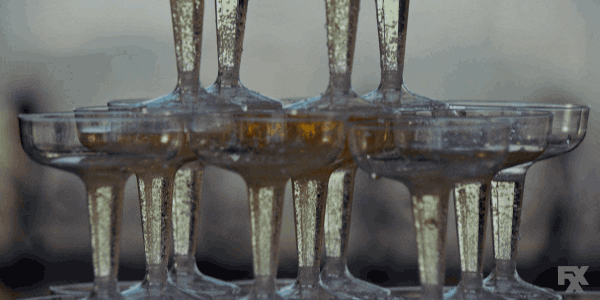 But there's still an issue: the vows. Jimmy is still editing them and he doesn't seem to be happy with the result.
Vernon takes over being best man, given Edgar and Jimmy's fight. But he still shows up to give Jimmy the rings. He parks the car, filled with food, drinks and a crime podcast called "Where It Hurts". He is there for Jimmy, in case he wants to bail at the last second.
But hey! Bill the male prostitute/Boom Boom! representative is here! Brooklyn Nine Nine crossover! He was the frozen yogurt guy! Awww!!
This happens for some reason: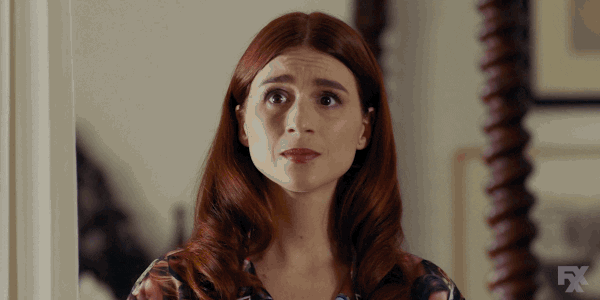 I loved that the camera became Jimmy's eyes for a second! And have have some special guests! Ben Folds, Gretchen's father and Kilian!
And of course Shitstain, Honeynutz 2 and Sam! I love those guys! Edgar tells Lindsay what he said to Jimmy and she is not happy.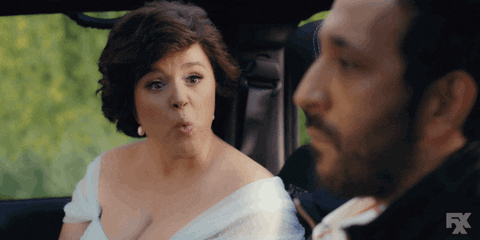 And when Gretche finds out, it's a punch in the gut. She is so mean to him. She is horrible.
"And while I liked you, Edgar, the one thing I could never do is respect you."
A line in stark contrast to the scene in the park a couple of episodes ago.
And yet… he still doesn't leave.
TRASH JUICE MAKES A COMEBACK!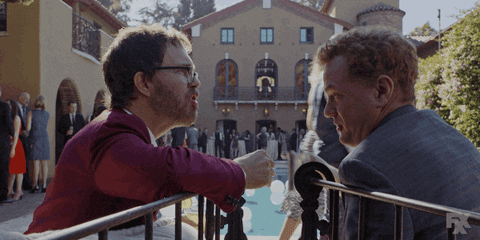 Jimmy goes to Gretchen's room to give her a braoch her mother gave him and he ends up finding out she didn't write her own vows. Shitstain did.
And Jimmy starts doubting her a little and she does as well. And even if she yells: "I want to marry you!" after he repeatedly asks her, he says: "I don't think I wanna marry you."
And I thought: "THERE IT IS! This is the moment it all goes to shit." I was terrified for like… 30 seconds.
Because the narrative changed. Jimmy goes out the door and BAM, we're in the future.
FINALLY!
But the florist who S-ed his D is there! And it seems like Jimmy is not happy with Gretchen being at this wedding they are all at. But it's Edgar.
He appologises for what he says and when Jimmy utters: "You were proven right. It took me a while to admit it but it was ultimately a rather brave and selfless act.", my heart broke.
But Edgar replies: "It was the only way I could get away from you."
And all I could think was this:
He needed to distance himself from Jimmy, move to the city and do his own thing in NYC. He needed to make it on his own.
And he's adapting the murder podcast! They fall back into banter like old friends do and right then Gretchen appears.
BUT SHE GOES AND KISSES JIMMY!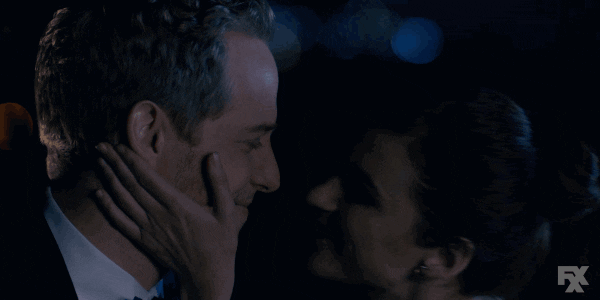 AND A LITTLE GIRL COMES RUNNING! AND SHE CALLS JIMMY "DADDY" AND HE PICKS HER UP AND…. SHE'S ADORABLE!!!
Jimmy and Gretchen have a daughter together! That was the little girl Edgar was running from in the woods! I am so happy.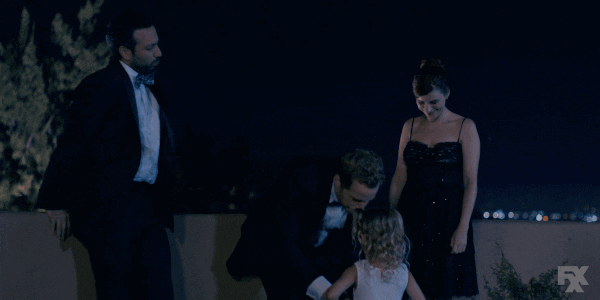 The florist is the Felicity's babysitter because all sexual tension is over between them. Aaaaaaand it's super weird. Also, super open minded on Gretchen's part, I guess.
And guess whose wedding they're all at?
PAUL AND LINDSAY!!!
They sold the house because it wasn't safe for the baby, the car is just old, Gretchen was having a night off at the hotel by herself and she and Jimmy had a bet going on about whether or not she could last a month without drinking.
AND OUR QUESTIONS HAVE BEEN ANSWERED!!!
We come back to the present, with Jimmy running away from the venue. But Gretchen follows him.
"It's not gonna be that easy to leave me this time. You knew who I was."
But he tells her how "phony" his own vows are, how difficult it was writing them. Just like it was for her.
I had to pretend to be someone who wants to take care of someone in sickness and health. False concepts like "forever", "eternity", "until death". Who wants to lie in front of everyone they know that they're gonna love someone forever. HOW CAN YOU KNOW THAT? You can't.
And now? What are they gonna do?
They find themselves at their usual diner, sitting next to the other, while everybody at the wedding is freaking out and Lindsay starts singing a song she wrote for Gretchen (apparently talking about all her sexual partners).
I loved the ending. I loved it.
"Every day we choose. […] Everyday we wake up, we look at each other and say "Today, again, I choose you." Until maybe don't day we don't."
[…] I will make the choice to love you.

Isn't this so honest and realistic?
I have already written an entire article about how much their relationship, how meaningful these promises are and my love for the show. I will be out soon and I hope you'll check it out.
It wasn't cynical, it wasn't romantic. It was just real.
And if you needed further proof about Jimmy's love for Gretchen, look no further than then next line. She regrets leaving behind not the money they spent, not the people waiting for the but all the presents.
That is until Jimmy tells her he called Vernon to put them in the car.
If that's not true love… I don't know what is.
I loved the montage at the wedding! There is even a cameo of the showrunner Stephen Falk! And then we flash forward again in the future, seeing the key moments in their relationship.
I loved the part with Jimmy asleep and Gretchen and the baby crying next to him. It shows that it wasn't all hidillic, they had some tough times and yet, they stuck together.
And it made me laugh so much seeing them at a restaurant and it looks like Gretchen is giving Jimmy a handjob, when in reality, she's moving the baby's stroller. I loved it.
It was perfect. I loved every single minute of this episode. It was perfect.
HONORABLE MENTIONS
Paul's non-existent table 13 is hiarious. The joy on Jimmy's face at the end made me laugh so much. He was so looking forward to messing with him!
Becca trying to hit on people by saying she's "squishy" is hilarious.
The Food Processor Parallel – 01×01 / 05×13
Felicity wearing headphones while they have sex… That was hilarious.
Also…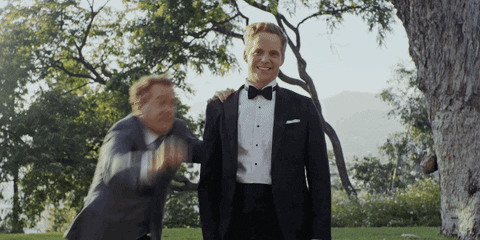 ---
In the end, it was one of the most sastifying and perfect final episode I have ever seen and want to thank all the people who have worked on it, the writers, the cast, the crew and the creator, Stephen Falk.
They made a funny, realistic, absurd, cynical and crazy show that will always be one of my favourites. This season was incredible and I'm excited what's coming next for Aya, Chris, Desmin, Kether.
What are your thoughts on the finale? Leave me a comment!
Tweet at me, find me on Tumblr or send me an email.
xxx
Georgia