It's the day before the wedding! And they are both spending it with their best friends, Lindsay and Edgar. Or at least that's the plan.
The wedding chores list is all crossed out and they're angry about how much work it takes.
Gretchen is totally calm about getting married to Jimmy. He has given her acceptance. She feels save around him.

So safe I feel like I can do anything and you'll never leave me no matter what I do.

Gretchen
And she shatters a glass on the floor.
Where is your favourite place to go?

Nowhere.

That's where we're going.

Lindsay and Gretchen
I was actually touched by this! I want a friend that knows how much I hate going out and putting pants on!
But Gretchen's mom is here. And she's just as insufferable as ever.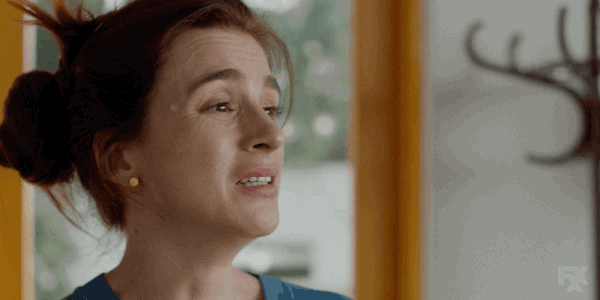 On the other hand, Edgar and Jimmy are having an amazing day with three majestic locations.
First stop: CURLING.
FUCK YEAH!
I loved the montage! With the rap song and the directing of a music video, it was hilarious.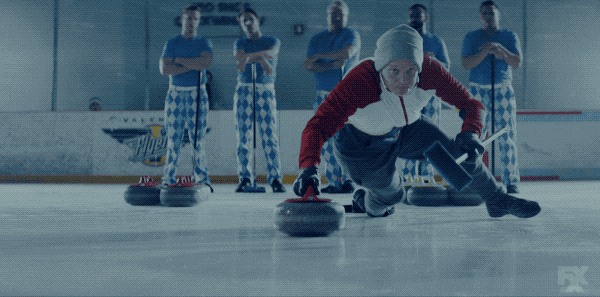 Lindsay is dealing with Paul, Becca and Vernon problems so she's helping them out and kind of reuniting with Paul in what looks like a healthier way.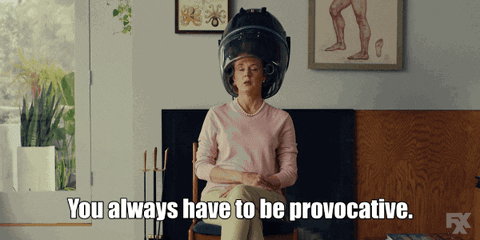 Gretchen is having a SPA day with "Mommy" and it's all going terrible. When she said: "Our daughter is getting married" we had a glimmer of hope that she had changed, that she was finally putting differences aside to enjoy the day with her. But no. She finished by saying: "We've had front row seats at all your mistakes. So why stop now?"
She is really horrible.
Second stop: RAGE ZONE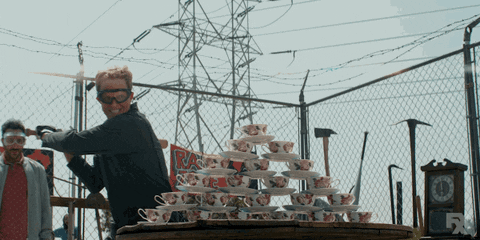 I need this. I need it in my life. And cue another amazing montage! I loved the way this episode is directed. I love it. The slow-motion smashing of the television was amazing.
It got super weird when Edgar presented him with a manichin of his father. He called him: "Papa". Ew…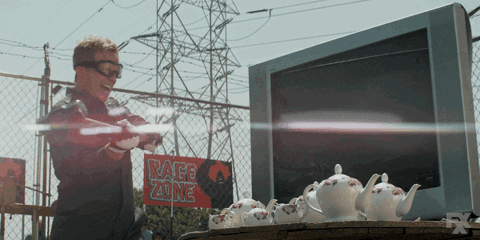 And now one of my favourite parts of the episode. Gretchen's talk with her mother. She's the type of parent who represses every single emotion and pushes their children to be their best.
Gretchen just wanted her parents to care about her, to talk to her and help her through her mental illness.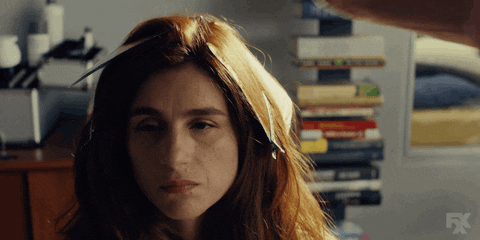 But "You're The Worst" makes us feel sympathy for Vanessa Cutler. She's in an unhappy marriage, she hasn't felt love in 20 years and has been repressing single unpleasant emotion.
Thirt stop: PRIVATE CLUB
Edgar gets Jimmy a membership to an elite club and he is the happiest he has ever been. These montages have been amazing. I love them so much. And we even see the annoying brunch guy from Sunday Funday! (Hi Thomas Middleditch!!!!) And they bury the hatchet!
I just want to remember them like this: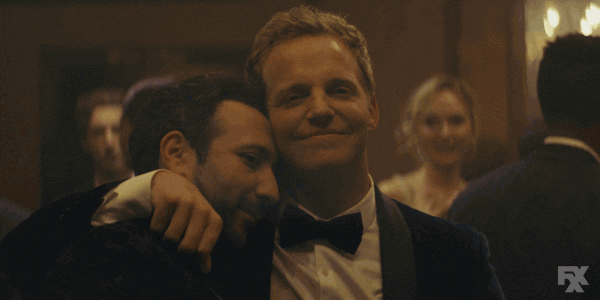 Because shit comes down. These fun and amazing montages end ubruptly when Edgar finally confesses.
Don't marry her.
They've build this season around Jimmy finally appreciating Edgar as his best friend, a two-sided relationship of mutual respect and appreciation for the other.
And this is the break point.
After hearing Edgar's words, Jimmy goes from 0 to 100, from "You are, have always been, my best man and my best friend" to "I never want to see you again. Get out." in a second.
The dark atmosphere of the secret club played beautifully with the gloomy tones of the conversation. And the tears in Edgar's eyes destroyed me.
He put his friendship with Jimmy in jeopardy so he could tell him the truth and save him from destruction.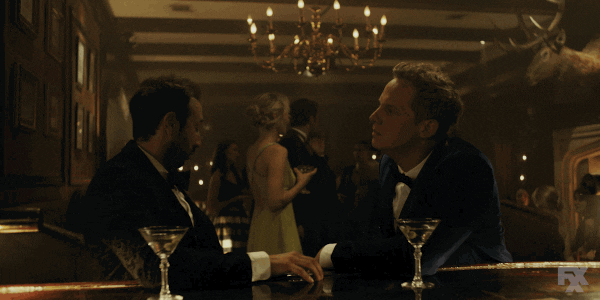 You love each other but it's not the same thing of being good for each other.
It's the whole concept of "You're The Worst", two horrible, self-absorbed people, destined to destroy each other.

I loved the metaphor of the glass. It's like that's one of the problems in their relationship. One of them made it, and both refuse to clean it up until somebody steps on it and gets hurt.
---
I love this episode. This is probably the best episode of the season and one of the best of the entire show.
I loved it. So much. It was written beautifully by Sarah Carbiener &
Erica Rosbe and directed by Jordan Vogt-Roberts, who also did the pilot.
I'm curious to see what is going to happen in the last episode. I can't believe they're going to explain all of this in just 20 minutes.
I just don't want the show to end. I really don't. I'll miss it so much.
What did you think of the episode? What's going to happen next? Will Jimmy and Gretchen end up together? And if they do, will they destroy each other?
Tweet at me, find me on Tumblr or send me an email.
xxx
Georgia