Goodbye Core 4 and…
HELLO FORGOTTEN CHARACTERS!!!
At the top of the screen, it said: TV 14 DLSV… I MEAN… you know shit is going down!
There's a 2-week hiatus but I'll still be posting about Riverdale! Do you have any suggestions? Things you'd like me to talk about? Or topics I should dive a little bit deeper into? Let me know!
Before we get into the show, let's observe his amazing bughead moment:
MY BABIES!!!
---
Now…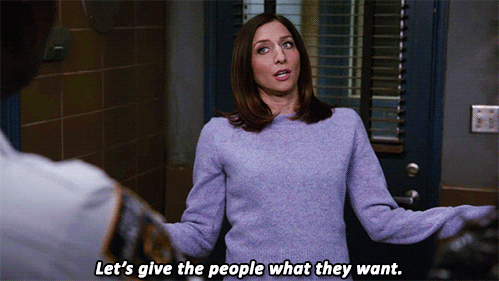 More space to the Josie, Kevin, Cheryl, Toni and more. I want more screen time for them!
SLOW DOWN WITH THE PLOT AND PAY ATTENTION TO THESE PEOPLE'S STORYLINES.
THIS HAPPENED!!! Awwww!!! Even though I am so angry with how the writers treated them, there is so much love and it's adorable.
Uuuh! Hermione has taken on the roll of "Daddy". Is Hermione "Daddy" now?!

Uuuh Kevin And Moose are going at it hot and heavy! They just want to be together! LET THEM!

MAYBE THIS IS THE EPISODE WHERE I FIND OUT WHAT THE FUCK THE RROTC IS.
I didn't. But thankfully someone on Tumblr told me. It's a military officer training program that offers scholarships. So there's that!
Josie and Sweet Pea!!!!
I almost forgot they used to date! They haven't mentioned anything since episode 1! Speaking of, WHERE IS THE HOT DADS OF RIVERDALE SQUAD?!
I AM SCREAMING! HE IS SO SWEET!!! (Pun intended). He wanted so seriously date her. He wanted to commit to her and I'm so mad they didn't go for them and instead they had Josie paired off with Archie the idiot.
BUT SWEET PEA DESERVES BETTER.
WHY ARE THE PARENTS SET ON KEEPING THEIR CHILDREN FROM GOING TO COLLEGE!?!?!
First Alice, by donating Betty's college fund to the Farm, now Penelope? STOP! I get it! University is trash and I hate it but you should not stop your children from receiving an education!
… shall not be polluted by someone of your allignment. You are an aborration.

Penelope
This was so hard to watch!
THE MIDNIGHT CLUB HAS TO REUNITE!
I'm glad they showed Cheryl's tender moment with Kevin. She is capable of being a kind and generous person and makes terrible and impulsive decisions. She has no filter. It feels like the acts regardless of the consequences that may derive from it.
It burns me that people in this town still believe that being gay is anything less than rapturous

Cheryl
SAY IT LOUDER FOR THE PEOPLE IN THE BACK!
Your aesthetic might be firmly rooted in the 1950s, but you're a catch in any decade.

Cheryl
I love Cheryl's sick burns.
But then she goes and basically outs Moose in front of the school.
How could she be so careless!? Why didn't she think? and HOW could she think this was okay?! What I loved the most was Toni's response.
She did not sugarcoated it and brutally showed Cheryl just how wrong and reckless she was.
CHERYL GET SOME PROSPETTIVE.

Toni

TONI PUT SOME SENSE INTO CHERYL!!! YOU GO GIRL! Rectify all the mistakes the writers have been making! And she misses the serpents! Poor Toni.
I just want her to be reunited with her family. JUGHEAD. Where the fuck are you? Stop being a dick and let Toni back into the Serpents.
SHE WAS THERE BEFORE YOUR SORRY ASS WAS DRAGGED INTO IT. SHE HELPED YOU FIT IN, YOU HYPOCRITE.
Juggie, I'm sorry, sweetheart. It's the writers' fault. Their mission is to dismantle every character's development and personality.
YES, REGGIE! Steal from you abusive father!
So I guess Veronica and Reggie are actually dating.
THE MIDNIGHT CLUB IS REUNITED! Is finishing the game a good idea?! And drinking something Penelope gave them? Are they sure?

GO JOSIE!
But she didn't get it! WHAT?! Are you crazy! She worked so hard on this! You're such a sweet and adorable girl… don't get messed up with the idiot of the village, Archie fucking Andrews
Oh I almost forgot! Reggie gets shot.
MOOSE TOLD HIS DAD!!!
And they're going to have sex. In the bunker. Where Tall Boy was murdered and then hidden under the bed.
CUTE! 🙄🙄
What was really cute was Cheryl's decision of giving up her interview for Toni. I love girlfriends suporting each other's academic careers!
But now I'm getting angry. GLADYS JONES IS HERMIONE'S SECRET BUYER?!
I don't like saying this about any women, but I hate her. I hate her so much. She is such a manipulating bitch and NO. JUST NO. She's gonna break Jughead's heart. If she make trouble for Bughead… I WON'T BE WATCHING.
Cheryl apologized to Moose! And gave him a wonderful piece of advice:
THE PARENTS ARE AWAY PLAYING G&G SO…
LET'S HAVE SEX!

Why are they all having sex next to their phones? Seriously. COME ON!
But it was all FAKE! The Gargoyle King had to get the parents away from their children!
Acutally… not the Gargoyle King…
MOOSE'S DAD!

He wanted to scare his kid into NOT BEING GAY?! BY MAKING HIM AND KEVIN THINK THEY WERE GOING TO FUCKING DIE?!
I love that they shine a light on how horrible, destructive and fucking wrong gay conversion therapy is and how hard it is being a member of the LGBTQIA community because people are mosnters to you.
It's so important to show these things. Especially given the young demographic that tunes in week after week.
MOMMY DEAREST IS BACK AND LURING JUGHEAD INTO A FALSE SENSE OF SECURITY ONLY TO BREAK HIS HEART AGAIN?!
Was his mom always a manipulative monster? And JB!!! You sweet adorable girl.
DON'T LET MOMMY MANIPULATE YOU.
Seeing how JB and fucking Gladys plan on manipulating Jug and FP made me so mad. I mean, FP was probably a nightmare in the past but how is her life in Toledo any better? Still filled with crime, in a gang, her mother is the leader.
The only positive thing is the female role model: she is in charge, she makes the decisions, she needs no man.
But still.. she's a criminal.
KEVIN AND MOOSE BROKE MY HEART.
LOOK AT HIM! HE IS DEVASTATED!!
And how in love Cheryl and Toni are!!! CUTE!
Oh and Archie and Josie are now fucking. At least he asked her if he could kiss her.
CONSENT IS IMPORTANT, YOU GUYS.
---
I really liked this episode. Instead of doing an episode like this, they could have slowed down the entire plot and inserted more scenes of Choni, Kevin and Josie in the previous episodes.
This felt like: "Oh wait! We just remembered other characters exist aside from Betty, Jughead, Archie and Veronica. Let's put them all in an episode and not talk about them for another 2 seasons."
Which is BULLSHIT.
But let's not complain. The episode was actually well-written, with positive pro-LGBTQIA themes and the nonesense was dialed down a little bit.
Uh! And I almost forgot! Cheryl said someting about Penelope being a "twice-widowed" woman. Ehm….. THE FUCK?!
Have I missed an episode?! Like Veronica said in the last episode…

---
LET'S TALK!
Tweet at me, find me on Tumblr or send me an email.
xxx
Georgia