An entire Hitchcock and Scully themed episode?!?
YES PLEASE!
They are such a fun duo of disgusting people and we all love them.
Before we get to the review, check out my previous one!
---
First of all… let me say one thing…
HITCHCOCK AND SCULLY WERE HOT?!?
They had cool moves, catchphrases and their banter at the beginning was AMAZING! And they already had their nicknames!
FLAT-TOP and THE FREAK!!!
Seriously, you guys. We don't deserve this show.
Charles & Jake
Jake and Charles investigate why Internal Affairs might be sniffing around an old case closed in the 80s by Hitchcock and Scully. Charles is dealing with this guy who claims to be Nikolaj's brother and 15 years old… When he is clearly 45.
I love how unapologetically creepy Charles is:
Terry, Rosa & Amy
Terry Rosa and Amy have to deal with an extremely crowded pullpen and they get into a hilarious battle between the "downstairs people", Amy's uniform officers, and the "upstairs people", Terry's squad.
I DIED!!!
YA BANNED! Along with YA BORING and The Good Place's YA BASIC, it's has made my year.
Captain Holt & Gina
On the other side of the precint, Capt. Holt and Gina are getting him ready for his TV appearance to further discredit John Kelly, the new commissioner.
"GINA LINETTI, SPAGHETTI, CONFETTI."
Also, Captain Holt doesn't give a hoot.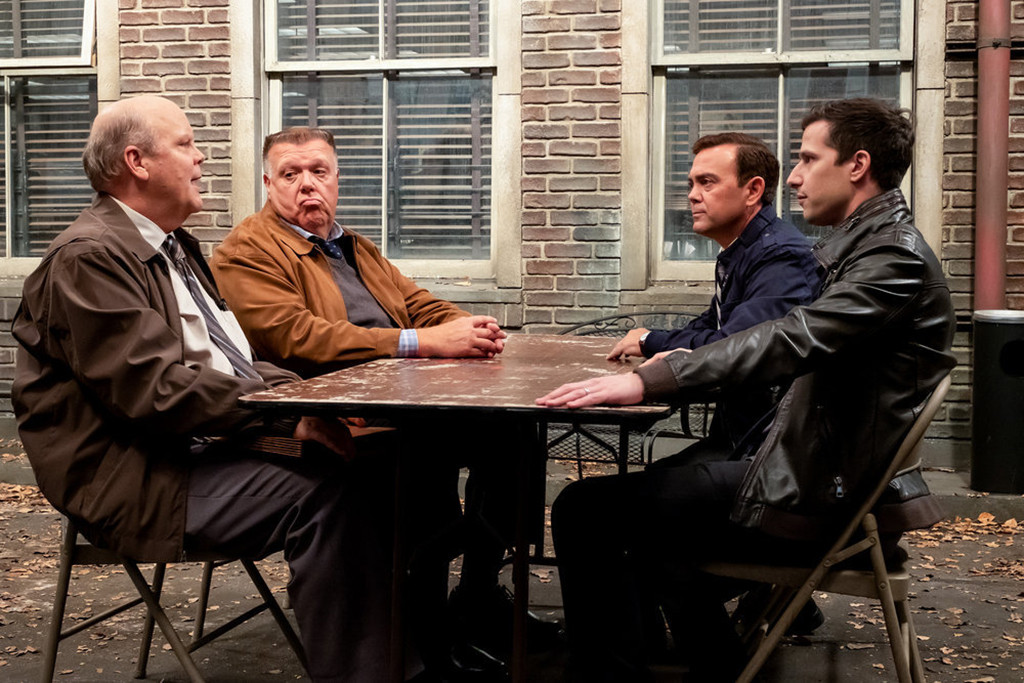 There are so many amazing moments in the episode, you can't even blink or you'll miss them.
From Hitchcock and Scully's SURPRISING PAST, to Jake and Charles yelling how much they respect women while driving "The Beaver Trap", Hitchcock and Scully weird ass creepy sex van.
"FAKE NEWS! SAD!"

"Yes, that's the language of the innocents."

Jake and Hitchcock
I LOVE THIS POLITICAL ZINGERS!!!
Turns out, Hitchcock and Scully did steal a bag of money and gave it to the mobster's wife to help her disappear because their old captain wouldn't put her in witness protection.
Which led to these 3 amazing moments:
And we find out how Hitchcock and Scully became Hitchcock and Scully and
… it's freaking hilarious!
I loved this episode! And the next one is the REUNION!!! And now some:
HONOURABLE MENTIONS
"I'm still with her" – Charles still suppoting Hillary and I love it.
"I've said "excuse me" more times this morning than I have ever had in my entire life. TWICE! " – I love Rosa
"My testies no longer make sperm." Ew, Charles.
"Some of my best friends are downstairs people." – Oh Terry….
Obama's official portrait is still in Holt's Office
Slut Sauce
"My wife and my dad are here. I mean… Captain Dad . I know who my dad is. You are. Oh, hi, Amy!"
---
How shocked were you after seeing Young Hitchcock and Scully?! Let me know your favourite quote from the episode!
Tweet at me, find me on Tumblr or send me an email.
xxx
Georgia