Over the past six months, since I've started watching Riverdale, I've been throwing a lot of shit to the show. I mean, it's ridiculous.
Nobody in the Riverdale fandom thinks the show is good. Nobody thinks it's well written. Fucking nobody.
But I have to say that there are some things that I enjoy about the show and that I am happy they have included.
NO LOVE TRIANGLE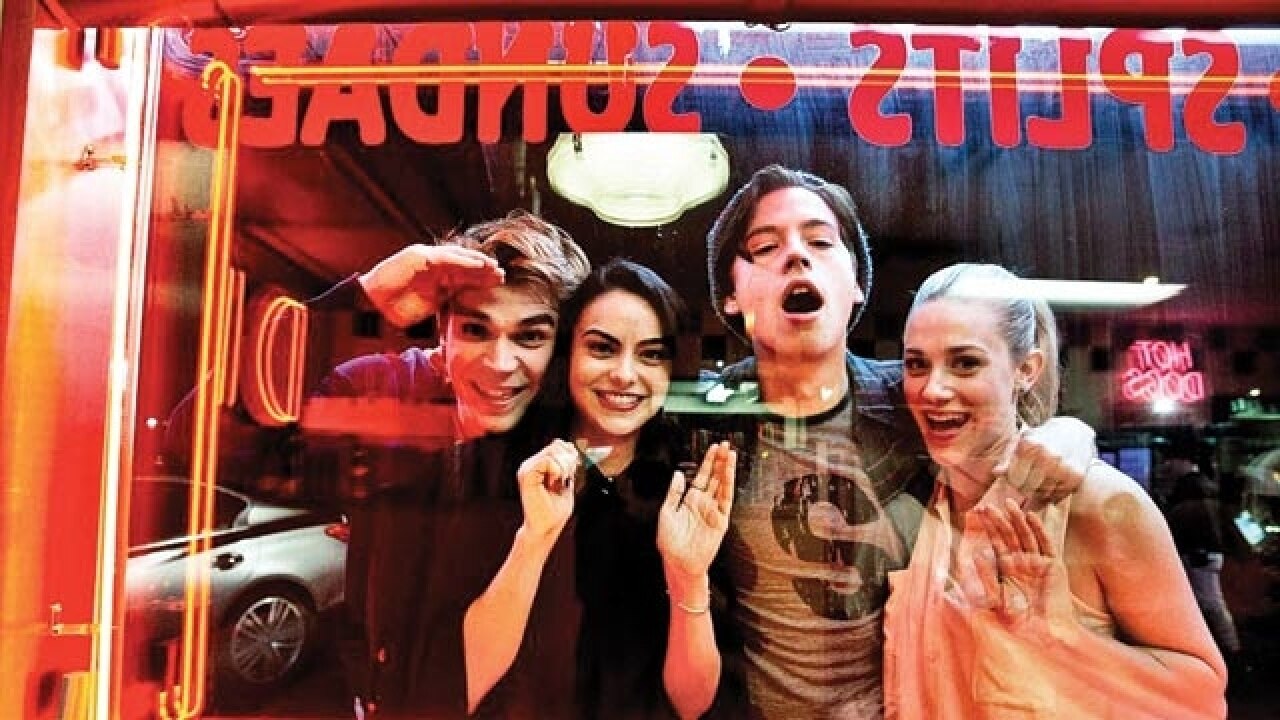 I really appreciate the fact that they didn't include the classic and over used and fucking horrible "love triangle" trope.
Right from the start Betty and Veronica do not fight for Archie's affection and it's a great message especially since the show has a young demographic of teenage girls. 
Friendship comes first for them and a stupid boy will not come between them.
It's important to show a strong friendship and I am actually really glad they portrayed Betty and Veronica's healthy support and love for each other.
The Chuck Clayton Mess
I absolutely adored was the Chuck Clayton storyline in season one.
He was the one who harassed Veronica and he paid for it. The show highlighted the fact that such behaviour is not acceptable and that people have to be held accountable for it.
And he was.
Whereas "13 Reasons Why" showed us the sad reality: Bryce not even getting convicted for his crimes, Riverdale decided to show us a more hopeful outcome.
Cheryl's Coming Out
Although Cheryl might be a complicated, deeply flawed character I absolutely adored her coming out storyline in season two. It showed a more compassionate, broken, and sensitive side of her, which sort of explains her horrible behaviour towards her classmates.
I'm not condoning it, obviously.
She was a nightmare, a bully and somebody who caused a lot of pain to the "Riverdale High" population. Her horrible family oppressed her and diminished her in the worst way possible but this does not mean she is absolved from all the terrible things she has done.
That being said, I absolutely adored the vulnerabilities she showed Toni and I think the two of them are a great couple! I wish the writers allowed more Toni to be in screen. If we eliminate Archie from the show, a lot more interesting people would be featured in it and maybe it wouldn't suck.
Archie is truly the worst. But this is not a blog post about how much I dislike him….
….
….I've already written that one.
Friendships
Riverdale is a ridiculous show but one thing I like about it is how friendships are represented.
Betty and Veronica never fight about the same guy, they are never catty to each other and their only fight was about something real and not stupid. Like Veronica's involvment in Hiram Daddy's master plan. (He is not Hiram anymore. He is Daddy. Sorry Lili.)
They also helped Cheryl, despite the fact she bullied them and mistreated them.
These friendships are strong and the moments of frictions have fundations: they don't crumble to piece at the first sign of trouble (see Betty and Archie's kiss and the aftermath).
They might fight, disagree on what to do but at the end, they still help each other.



---
I hope you liked this post!
Let me know what you love about Riverdale and the positive aspects the show portrays!

Tweet at me, find me on Tumblr or send me an email.
xxx
Georgia