[Attention! This post includes spoilers for all episodes of Riverdale and some strong language!]
YOU GUYS, WAS THIS EPISODE GOOD? LIKE, ACTUALLY GOOD?
Good performances, good writing and good directing?!? I am shook.
In the immortal words of this amazing gif:
I'm scared for Jughead
I'm just putting it out there. I am scared for him. I obviously do not think he will get murdered but girl, you are legit going crazy.
Even Betty couldn't get through him. The game is clouding his judgement and it seems like nothing Betty says can make him stop.
Maybe only this:
lol.
Veronica and "Daddy" talking in the dining room… well… I don't really know what they talked about. I was kind of distracted by Hiram stretching in front of us and by the title of the newspaper Veronica was reading: "The Wall BEAT Journal". I have two questions:
What 16-17 year-old reads the Wall Street Journal during breakfast?
Ehehehehe BEAT… that's a funny sound. I thought it was funny. Don't know why.
I am glad this episode features all the important characters of the show, from Reggie, Josie and Kevin to Sweet Pea, Fangs and Toni.
I WANT MORE TONI AND CHERYL.  MAKE 👏 IT. 👏FUCKING. 👏HAPPEN. 👏
Then this guy comes back.
Elias? Elia? Something like that. The Season 2 Casino guy. The mobster. Who cares.
All of a sudden THIS fucking happens.
WHAT WAS THIS?! I TOLD YOU I WAS RIGHT TO BE SCARED FOR JUGGIE!
Is he completely brainwashed? Cole gave a good performance and although I may like him a lot and think he is real attractive for some reason, I am not sold on him as an actor. Here he showed range and a believable madness inside of him.
FP was about to tell his son his version of the night his Principal died and Jughead went Full-Boyle:
But contrary to Boyle, we do not get any new deets. PLEASE GIVE US MORE FLASHBACK MATERIAL!!!
And just saying, but I did call it. Tom and Sierra are getting married. Why their children are so against it, it's still a mystery. I mean, I kind of get it. I am more pissed off about the fact that they lied to Kevin and Josie about playing G&G.
The Casino Guy sneaks Veronica into prison to see Archie and they have sex. Sure, because that's the first thing that comes to mind. Sex with your imprisoned boyfriend.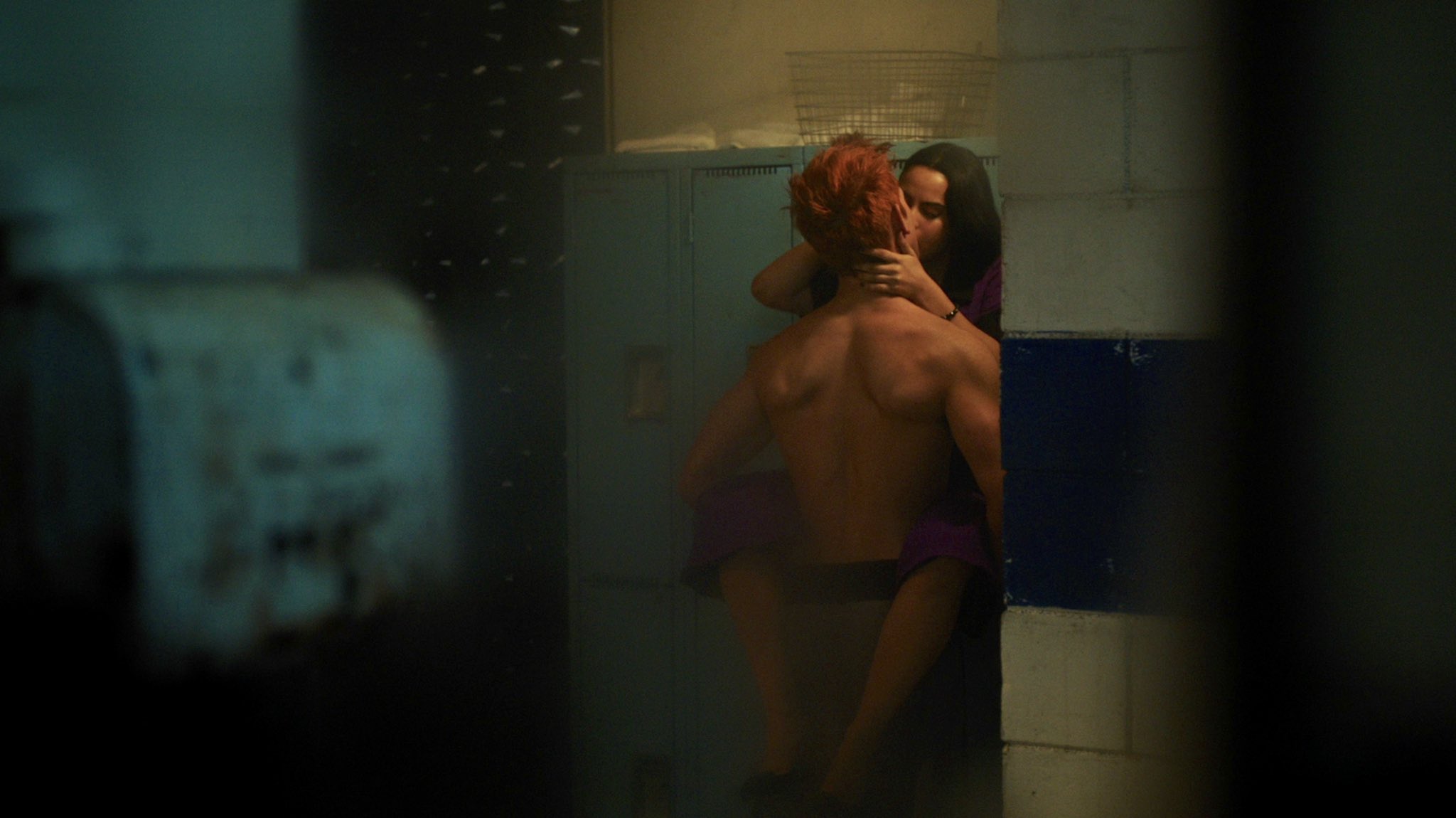 Veronica still has her horrible wig on. Can't this show figure out how to make a decent wig? Isn't Veronica super rich? Can't she just splurge for one that has a higher quality?
So they plan a prison break. Great.
Now, here is the trashy stuff Riverdale is known for:
Archie is on a date with the warden. Cute.
and…
I KNEW IT. I FUCKING KNEW IT ABOUT THE WARDEN. AS SOON AS HE STARTED RAMBLING. I KNEW HE WAS PLAYING G&G.
Now here is the GOOD part of the episode. The parallel between Veronica and her gang trying to help Archie evade and Jughead, Toni, Cheryl, Fangs and Sweet Pea playing in the fictitious "reality" of G&G, which bares a striking resemblance to whatever was happening outside of the bunker.
Joaquin kissing Archie and then stabbing him made me so mad! Why?! Joaquin? WHY? I want to like you so bad! And you make it impossible!!!
Oh and Mad Dog is alive, by the way. I don't get this show.
As soon as Veronica saw Hiram I did yell:
"DADDY?!"
I want to make a Brooklyn99 "Title of my sex tape" joke but I'll refrain from it. Too disturbing.
Betty in her Serpent jacket and black attire was probably the best thing about the episode.
So HOT and so empowering, for some reason. She is soo cool.
And she hasn't cried even once this season! I'm happy for you, girl! You go, Queen!
Ok I have to talk about the fact she's wearing Jughead's helmet with the crown on. You guys!!! Super cute 😍
This sequence was so cool and badass!!!
Joaquin, what the fuck?!, though. How can THEY know how to play G&G?
This is all confusing! I need an explanation!
Two power couples! Bughead and Choni! YES, GUYS!
And just like their parents 25 years before, they end up making a pact never to reveal what happened with Archie's prison escape. Fun.
Now I want you to stand up and clap to Hermione Lodge for summing up Riverdale season 2 in one amazing scene:
Then Kevin, Josie and Reggie decide to start playing G&G and Jughead bows in front of a tree.
THIS. SHOW. IS. CRAZY!!!
Uh! Almost forgot! And the Warden kills himself with the same blue thing-y.
WAIT! And the farm? Have we completely forgotten about the farm? And Edgar Evernenver? What's the deal with him!?
Anyway, we have to wait 2 weeks for the next episode. Damn you, Thanksgiving. All my shows are going on hiatus for the next week. It's a huge bummer.
I cannot wait to see what the fuck is going to happen. And PLEASE PLEASE PLEASE, don't harm Jughead. Ship Archie to a different state, let him rot in prison for a couple more episodes. He deserves it for all the shit he pulled in season 2.
I plan on writing a post about all the questions I have and about all that does not make sense. See you next Thursday!
Let's talk! Tweet at me, find me on tumblr or send me an email!
xxx
Georgia