I've been talking obsessively about Riverdale for almost a week, leading up to the season 3 premiere.
I've seen every episode of the show multiple times and I am in love with it. I love how trashy it is and how I can get angry at character developments (or the lack of them).
In this post, I compiled a list of my favourite five Riverdale episodes, in no specific order and here they are!
---
Chapter 8: The Outsiders
I loved the baby shower. I don't know why but I love this episode. I've seen it a million times. It's Jughead and Betty's first outing as a couple, almost all the Riverdale moms in one place, Gypsy Nana Rose and Archie being a dick.
It fits all the criteria of a great Riverdale episode.
Oh, and Cole Sprouse in a white tank top. Just saying. It's… I'm… I have nothing more to say.
---
Chapter Fifteen: Nighthawks
This is such a fun and dark episode. These adjectives should not go together but Riverdale is probably the only show in which they do.
Archie is still dealing with his father's shooting and Betty embarks on a quest to keep Pop Tate's Chock Lit Shoppe open, even forcing Jughead to wear that ridiculous uniform.
And we get introduced to the famous Riverdale drug which has the most adorable name ever: Jingle Jangle.
Uuuh! I almost forgot! Hiram Lodge tries to win back Veronica's affections by showering her with gifts. And she pushes back! You go girl.
On top of that, all the characters learn that Miss Grundy was murdered.
THE.
DRAMA.
---
Chapter Twenty-Five:  The Wicked and the Divine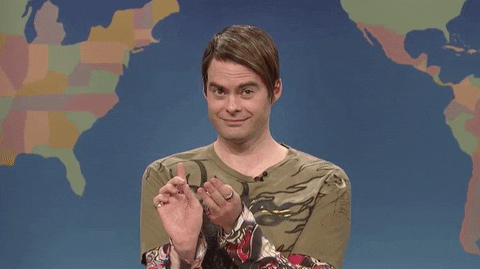 In true Stefon's fashion: this episode has everything: Veronica's confirmation, Hiram's grip on Archie gets stronger and Betty and Jughead go back to be Riverdale's best detective duo.
It's so fun. We see Archie digging himself deeper into Hiram's shady business, his brainwash almost complete. Let's not forget Archie beat up a guy (a fucking scumbag who roofied Cheryl and tried to force himself on Veronica) mercilessly.
And the fake FBI agent!!! Classic Riverdale nonsense.
Betty and Jughead get back together! Those 4- episodes they were broken up were the longest EVER!!! So boring!
---
Chapter Thirty-Four: Judgement Night
This was so dark. Betty's suspicions are finally confirmed: her dad is "the Blackhood"! The reveal was so anticlimactic! I was so upset.
But aside from Hal, Jughead is beaten by an inch of his life by the Goulies. That. Was. Scary.
I obviously knew he was going to survive. What is Riverdale without Jughead? I mean… Come on.
And then the guys from the high school fighting the Serpents?! That was fun. Also, the hot dads coming to save the day!
I loved this episode. There is so much tension and heartbreak and scary parts and… It's a great first part of the finale (aside from the reveal of Hal's true identity. That was stupid and I hated it. Why reveal it like that?! It made no fucking sense.)
---
Chapter Thirty-Five: Brave New World
Aside from having the same name as my favourite Fringe two-part episodes, this is amazing.
Jughead recovers from his injuries, Betty is afraid of her fucking darkness (if I hear this word again, I'll go to Toronto and punch the writers in the face), the results of the mayoral election are in and it seems like everything is going towards the right direction. Until Archie gets framed by Hiram.
I was so excited about Archie being arrested. I thought: "Finally! Get rid of him!"
I was shocked but most of all excited. For me, it's always entertaining to get sucked into the episodes and stay there for a while.
It's not super cringy and it flows really well.
And can we talk about the look of pride on Toni's face when Jugehead gives Cheryl the Serpent's jacket? That was adorable. Oh!, and FP retires and Jughead becomes Serpent King. And Polly's trying to get Alice to join her weird-ass cult?
I cannot watch to see the premiere of season 3! It's going to be so trashy!
---
That's it! Here are my faves!
Let me know if any of them are on your list! What are YOUR favourite riverdale episodes? Will you be watching the season 3 premiere on October 10th?
Tweet at me, find me on tumblr or send me an email! Let's chat!
xxx
Georgia