Season 3 is fast approaching and I cannot wait!!!
Check out my other posts here! It's Riverdale's cringy moments! Then some off my thoughts about the weird characterization of certain characters.
I've been following the cast of social media, trying to get any possible glimpse of a hint to what this season will entail.
We already know a couple of things:
There is a flashback episode all about the parents and the amazing thing is, they are played by the actors who portray their children. Mädchen Amick ( Alice Cooper) even posted a picture of her for Lili Reinhart as an inspiration for portraying her younger version.

Jughead's mom and sister

will probably make an appearance in episodes 8 and / or 9.
There might be another musical episode (I CAN'T WAIT FOR THE TRASH!!!)
Another dangerous threat will hang over the town.

Polly Cooper's weird-ass cult

is definitely going to creep us all. I'm scared for those poor children, with those names AND being involved in a cult…
In just 30 seconds, the trailer is filled with twist after twist. And now… let's break it down.
---
We see Archie in the back of a car, dressed in a stylish pressed suits, ready for his trial. Oh and he is handcuffed. (In case you don't remember, Hiram Lodge got him arrested in the last few seconds of the season 2 finale).
We see Jughead taking photos (Cole in his element) and Betty in her cheerleader uniform followed by a cool shot of Hiram sitting on his car with sunglasses on. The classic cool bad guy.
Veronica seems to be confronting her father saying:
"We will survive whatever you have planned because we are endgame."
I have heard rumours about some hard times for Varchie but I'm hoping they will leave Jughead and Betty alone for a while. They have suffered enough last season.
We see Toni and Cheryl running in a sort of basement but there are no indications of what might be going on! I LOOOOOVE them! They started off as rivals, formed a friendship and then a romantic relationship. They are so adorable together and I can't wait for more Choni!!!
What left me the most surprised was seeing
Archie with the Serpents tattoo on his arm!!!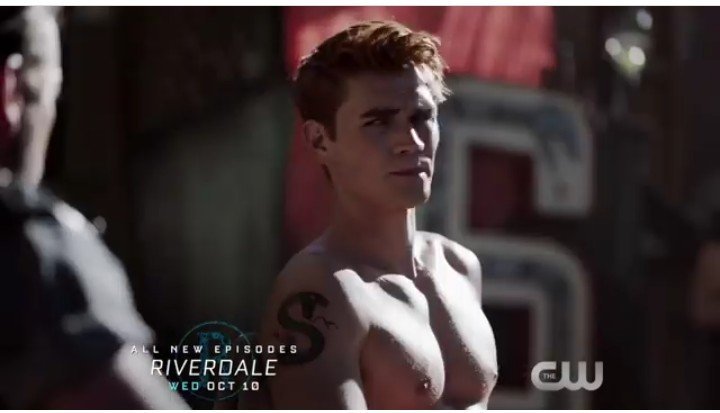 I have literally one thousand questions: Is he joining the Serpents? Is he trying to food somebody? Is it temporary? Why would Archie join them? He doesn't have anything to do with them, especially after being Hiram's goon for such a long time!
I am so confused and I need answers right now.
THEN, another shocking moment is dropped into the trailer!
ALICE COOPER AND FP JONES II. IN BED. TOGETHER.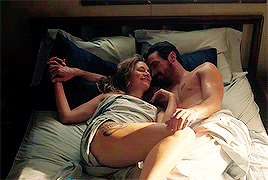 We knew they had a history together but I was not expecting this! I mean… their children are dating each other. Is it just me that finds this a tad inappropriate??
And moreover, we find out where Alice's serpent tattoo is! On her upper thigh!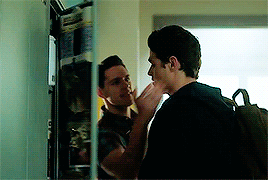 Kevin seems to have finally have a boyfriend, who hasn't helped FP dispose of
Jason Blossom's body (Hi, Joaquin!) and who isn't closeted and in denial regarding his sexuality.
Jughead seems to be in a tunnel, much like the one in which Betty had initially stashed the Bad Man's body.
And then things get even more confusing:
 a prison guard seems to be beating up Archie who is still in prison/juvie. (if it weren't police brutality, I would be happy. Somebody needs to put some sense into that kid.
Jughead and Archie are

keeping Fred from attacking someone

(I presume Hiram because who else would have caused him to react like that if not the man who sent his son to jail?)
We see a couple of drawings of monsters (and maybe a sort of devil?)
then a weird black figure with horns and arms that look like tree branches
and THEN, as if this wasn't enough, Juniper and Dagwood (Polly's twins) being held above a fire.
WHAAAAAAT?!
AND THINGS AREN'T OVER!
WHAT IS THIS PICTURE?!
There are two people in their underwear, one has a strange tattoo on their neck and Jughead is in the middle of it all! Screaming for help!
As soon as I saw this, I yelled: TRUE DETECTIVE SEASON 1!
And to be fair, it does look similar.
This Riverdale version is just bigger, trashier and more dramatic.
---
I am shook.
I can't wait to see the episode. They have been saying this season is going to be so much darker than the other two and I am so excited.
Riverdale returns for season 3 on October 10th on The CW.
Do you have any theories? What do you think is going to happen? Do you think Archie and Veronica are going to break up? What do you think the big threat to Riverdale is? Is Polly's cult going to ruin the already unstable balance of the town? 
Tweet at me and / or send me an email! Also, you can follow me on tumblr! I post A LOT about Riverdale and Brooklyn99!
xxx
Georgia