Prepare to be spammed by Riverdale. I'm literally obsessed with the show and it is terrible. The writing is not that good and the acting isn't any better, but…
I cannot stop watching it.
There are so many cringeworthy moments on the show and I have tried to compile a list of the best (or should we say "worst") ones and, to be fair, it would be the entire show.
But I've managed to narrow it down and here is the list of the most cring-y moments of
Riverdale season 2
.
---
Episode 8: Chapter Twenty-One: The House of the Devil
Betty pole dancing.
Listen, I'm all for people exploring their sexuality and trying different things but the way it was shot and directed, made it unbearable to watch. At least for me.
Why do they always over-sexualize teenagers?
Lili Reinhardt might be in her early 20s but on the show,
Betty is 16
!
And she starts stripping in front of a crowd of adult men! 
Did they writers thought this was acceptable? Because it is not.
Episode 9: Chapter Twenty-Two: Silent Night, Deadly Night
Another terrible moment that I absolutely have to mention is
the Betty and Archie kiss in the car
. Although when we meet them at the beginning of season one we kind of root for them (f
or one or two episodes up until they decided to give Jughead more screen time and we realised he was the better person
) the pairing couldn't be more off.
I'm not saying the actors don't have chemistry, but it's just wrong.
In spite of that, I'm kind of glad they did it so we know that they don't work together. 
PLEASE LEARN FROM THIS MISTAKE, WRITERS! 
Episode 14: Chapter Twenty-Seven: The Hills Have Eyes
This whole episode is the definition of CRINGY.
Let's start right away because I have so many issues with it:
PART 1
Betty and Jughead hearing Archie and Veronica having sex in the room next to theirs was the worst one in my opinion.
It was so bad. And then the writers decided to switch it up,  and have Archie and Veronica listening to Betty and Jughead.
What. Was. That?
It was so bad.
PART 2
Dark Betty.

I'm really happy that the writers have decided to explore Betty's sexuality and her darkness but that was so cringeworthy. When she comes out of the bathroom with the wig, the robe and the lingerie… I was like, "No. Please no."
You know that famous "The Office" Michael Scott GIF?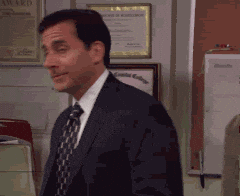 Exactly.
It was really hard for me the first time I watched it and since then, I have always skipped those 10 to 20 seconds because I cannot handle it.
PART 3
Veronica kissing Jughead.
Why? WHY?!?!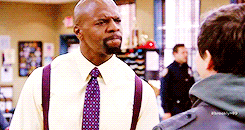 I don't know why but that was really awkward and uncomfortable and I hated it.
I don't think I even watched it the first time I saw the episode.
And this is a perfect example to explain why the writing is so bad: this sounds like it just came out of a 12-year-old girl's fanfiction story where they play "spin the bottle"…
Wait!
This trope had already been used on the show and it was sooooo much worse than that…
I can't even.
I don't know why this scene makes me so uncomfortable: maybe because I know that Lili and Cole, (who play Betty and Jughead) are in a relationship or because… I have no clue.
It is just awkward and terrible and really really uncomfortable.
Just thinking about it makes me cringe.
Episode 17: Chapter Thirty-One: A Night To Remember (The Musical Episode)
This episode is a standalone, all around 40 minutes of awkwardness and very auto tuned singers.
And I love it.
---
---
These are the ones that jump out to me the most… But there are countless others!
 I think I know why these moments make me super uncomfortable and that is because I think of the actors that have to do the scene and I empathise with the performer and think of what I would do if I were in their shoes. And that makes me incredibly uncomfortable. I can't help it.
You know that video where the cast is at a panel and a girl in the audience yells at Lili "I'm coming for your man" and she and Cole get really embarrassed?
I died watching that video. The second-hand embarrassment reached its highest peak. It was so bad.
---
Tweet at me or leave a comment down below and tell me what you think the most cringy moments are.
Please, I'd love to know.
xxx
Georgia