[Attention! This post contains some strong language. Less than I thought, though. Suits always gets me riled up.]
So… it took me a week to watch this episode. I am tired. So tired. This season has been incredible boring.
So much Darvey friendship (which makes me wanna barf), that Sheila and Louis bullshit and some other shenanigans that made little to no sense. Like Katrina's constant absence.
I'm so over bad writing and bad characters who still make the same mistakes they did in season 1.
Anyway, let's get into it. Another 40 minutes of my life gone.
Keep an eye out, though. Because the review of the next episode (the summer finale) is coming up short after this!
---
---
Let me start by saying that the 2 second clip of Mike Ross brightened my day and made me feel so nostalgic.
Also, real quick… general plot recap: they're getting sued by Robert Zane's former partner for 20 million dollars, Katrina and Bryan try to win a case, Donna puts out fires, Alex and Samantha fight.
HARVEY
So little Harvey in this episode.
So little space for him to screw up.
Robert Zane's former partner is suing Zane Specter Litt for 20 Million dollars on conspiracy. Which they did, according to them.
I didn't even realize they did.
Katrina going to Harvey for advice and him not being a dick to her was nice. Finally.
The guy who is suing them has cancer so they're using it as a strategy to win by delaying the motion for as much as they possibly can.
That is cold-blooded as fuck.
AND THEN THE GUY DIES!!!! WHAT?!
The Arnold Schwarzenegger bit brought me back to the movie quotes sessions with Mike and now I'm sad.
DONNA
Donna comes in Harvey's office and saves the day.
WHAT'S NEW!?!?
Then Donna comes in the conference room and stops Harvey and Robert's argument.
IS THIS HER NEW JOB? FROM C.O.O. SHE WAS DEMOTED TO "PERSON WHO FIXES STUFF FOR IDIOTIC MEN"?
LOUIS
He tries to talk to Elias Gould after blackmailing him and what did he think?, that he was going to make everything better? That he would not throw him out of his house?!
But this Gould guy changes his mind and tries to truck deal?
I. Don't. Care.
The fact they had to build storylines on their rival law firm and construct some complicated bullshit around it.
I. AM. SO. BORED.
Classic Suits Scene: people arguing in the bathroom. ICONIC.
KATRINA
KATRINA!!! She gets a new office!!! SHE MADE SENIOR PARTNER!!!
I'm so proud of her.
I WANT MORE KATRINA.
Katrina and Bryan going out to celebrate her promotion is terrifying me. PLEASE DON'T WRITE A CHEATING STORYLINE.
(I don't know why I'm pleading for this not to happen. It is going to. I know it. I've known it from the first hint of a partnership between the two of them)
ALEX & SAMANTHA
Alex's client is being sued for damaging a painting and… guess what?
I don't care.
Apparently there is a conflict of interest….
BOOOOOOOORING!!!
Then they fight for a while. Alex goes running to Mommy (Harvey) to solve his problems. And now he wants to go to court against Samantha?
Samantha challenges the patriarchy and I'M LIVING FOR IT! I really thought I was going to dislike her… Turns out she might just be the best part of the show as it is now.
Robert and Harvey come up with a plan to solve this rivarly betwen Samantha and Alex:
One case. Two lawyers. Winner gets their name on the door.
---
THE END!! Wow it felt like this episode was never gonna end! I am sooooo bored.
While researching how to spell "Elias Gould" I came across a list of the people who worked at this fictional law firm and guess who popped up?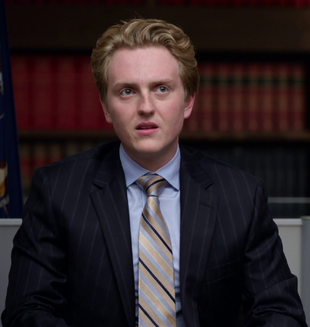 HAROLD!!! I miss him so much!!!
Tweet at me and let me know your thoughts on the episode! I'm going straight to the finale. Back to back Suits. How I haven't pulled all my hair out is still a mystery to me.
Will you be watching the second part of season 8 in 2019?
xxx
Georgia