The Emmys happened this morning! From midnight to 5AM I was glued to the screen, watching the Red Carpet and then the actual ceremony.
Hosted by Colin Jost and Michael Che, I liked the show. It was quick, efficient but… kinda boring?
It was a bit bland and there was very little tension! They announced the categories so quickly that I couldn't even work up any sort of suspense. And having the narrator (??) / voice-of-God person read the nominees' names might have saved time, but it felt too rushed. Moreover, they took unnecessary breaks between less important categories rather than the ones people are notoriously interested in.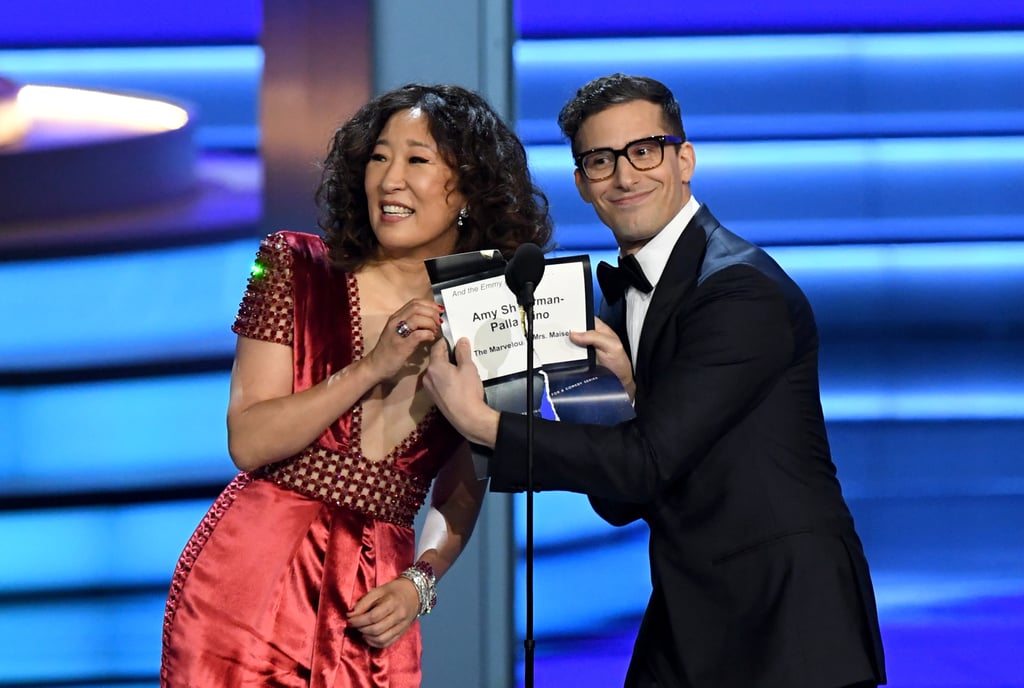 The banter between the presenters was as awkward as always with the exception of Sandra Oh and Andy Samberg, obviously. He is adorable, nothing he does is ever not entertaining.
Betty White is obviously an american treasure but bringing her on stage felt unnecessary. I get that she is so important but that poor woman is 96. Leave her at home. Don't parade her around.
And as much as I love Maya Rudolf and Fred Armisen, their segments fell so incredibly flat. It was not funny.
I won't even talk about the proposal because I was so embarrassed and I hated it so much. Like, so much. I would have run out of the theatre screaming in horror. I hated it. But congratulations, I guess…
Not unto the part that left me angry and disappointed.
They bragged about how diverse the nominees were and yet,
22 out of the 26 awards given out were won by white people.
Only 4 non-white people won.
How is that possible?
The irony is that at the beginning they did this great opening with a diverse cast singing about how diverse they were. And then they didn't awarded any Emmys to said diverse group of people.

WHAT?!
p.s. they should have let Kate McKinnon host. She is the best. And also a woman.
Atlanta didn't win anything, which is a disgrace. Atlanta's "Teddy Perkins" deserved the award for Outstanding Directing. And Matthew Rhys as best lead actor? Sterling K Brown was in his same category. Sterling.
I also have bone to pick with the outstanding leading actress in a drama. I want to say that I LOOOOOVE Claire Foy and her performance was magnificent but they overlooked Sandra Oh and Elisabeth Moss. If it were up to me, it would not have gone to Claire.
And the supporting actor in a drama series? Peter Dinklage? He is always brilliant but this season did not shine a light on him and it was a little bit weak.
Thandie Newton was amazing in Westworld. She was truly magnificent but I can't help but feeling Yvonne Strahovski was robbed.
And the awkwardness in the outstanding variety talk series when people started chanting Stephen Colbert's name and John Oliver's Last Week Tonight won? YIKES! I love them both but I think I might have wanted The Late Show to win.
Now I want to gush about two people I was so proud and thrilled they won:
Bill Hader for Outstanding Lead Actor in a comedy and John Mulaney for Outstanding Writing in a Variety Special.
I'm so proud of them.
Before showing you the selection of dresses I fell in love with, a special shout out to shows like "RuPaul Drag Race" and "The Assassination of Gianni Versace" for bringing parts of the LBGT+ community to the screen.
I'll say it again… Atlanta was robbed. And sure, The Marvelous Mrs Maisel was fantastic but cool it. A few of those awards were questionable.
NOW UNTO THE FASHION!
(Full article can be found here!)
(x)
---
Done! Here are my thoughts on the Emmys 2018!
Check out my predictions and see if I was right or wrong!
Also, were you wondering where Donald Glover was? He came as alter-ego Teddy Perkins!
Did you watch the show? Are you happy with the winners? Did your favourite show win? And what was your favourite red carpet look?
Let me know and tweet at me!
xxx
Georgia