So… I came back from my holiday! More than a month ago. Don't get on my back, I'm all over the place.
If you look back at my posts, the timeline is way off. I made huge miscalculations and posted stuff before other stuff (like my Riverdale review) but it doesn't matter! I'm here to talk about the books I've read!
As of now, I'm still 9 books behind schedule. I did not realise that.
Ok, now that I've cried and wept for a while, here are the 8 books I read!
It's a mixture of literature, YA contemporary and one non-fiction.
Sei personaggi in cerca d'autore
"Six Characters in search of an author" is a short book about six characters that are looking for an author to write their stories and their encounter with a group of actors, director and stage crew.
It's these characters became real and started interacting with the people representing them. It's like a play within a play situation. But not really. It's quite complicated to explain but reading it was fun!
It's a weird concept that somehow makes sense!
⭐⭐⭐⭐
---
Frankenstein
I went to a conference about this book last year, I didn't have time to read it and so I thought of giving it a go.
I liked it! I loved the structure of the book and having studied it before made me appreciate it even more.
Sure, I already knew the ending but it was so much more than that.
⭐⭐⭐⭐
---
Tender Is The Night
My friend gave me this book for my birthday and I loved it. I thought it was so interesting and the writing was amazing. I read "The Great Gatsby" a loooooong time ago and I didn't appreciate it enough.
But I really really liked it! The first book was a lot more fast paced than the other two. That being said, there were some issues with some terms they used and some sexism.
F. Scott Fitzgerald wrote a great novel, with secret romances, passionate affairs and illnesses.
⭐⭐⭐⭐
"Food" & "Television was a baby crawling towards that deathchamber"
On day out of the blue, I went on Amazon and bought a bunch of books. For 11€ y'all!!!
"Penguin Classics" released a collection of essays and short stories for a 1£ each (1.30€) and I got Gertrude Stein "Food" and Allen Ginsberg "Television was a baby crawling towards that deathchamber".
I was not a fan of "Food". It was too weird for me. I've heard you should read them out loud to better understand her poems.
My overall review on Goodreads says:
It made no sense
⭐⭐
I really liked "Television was a baby crawling towards that deathchamber". I read some of his poems in highschool and I absolutely loved them.
He talks about politics, sex, culture and its changes. Liked it. Will keep an eye out for other books from Ginsberg.
⭐⭐⭐⭐
---
Why Not Me?
I love Mindy Kaling.
I read this book in two days! I couldn't put it down! It was the perfect summery read and I loved it.
She is hilarious and so real! (She would hate this comment but it's true! Sorry Mindy!)
It's always fun to read people's weird thoughts and reading Mindy's was a blessing.
I loved her on The Office and, to be honest, I had started watching The Mindy Project only to get super busy and never finishing it.
But I'll definitely give it another go. She gives off such a cool and relatable vibe.
I really really enjoyed this book and I'm sure I'll also buy her first one.
⭐⭐⭐⭐⭐
---
Everyday Sexism
Laura Bates collected women's experience with sexual assault, sexual harassment and especially sexism. She deals with different aspects of said topics, giving stats and examples in politics and popular culture. On top of that, she inserted real messages women sent her when she started her social media accounts and website (@EverydaySexism www.everydaysexism.com).
Goodread's synopsis reads: "This book is a call to arms in a new wave of feminism and it proves sexism is endemic – socially, politically and economically." and it really is.
It made me feel so sad. The terrifying stories these women and young girls shared were so powerful and devastating.
I definitely recommend it. It's worth your read.
⭐⭐⭐⭐
---
Leah on the Offbeat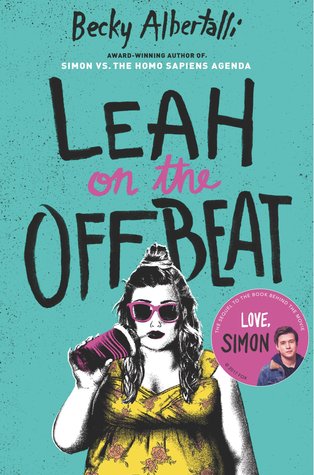 I thought I would enjoy it more.
I looooooooved "Simon vs the Homo sapiens agenda", but this one left me perplexed.
I didn't see the point of it. There was so final goal. Some of the dialogues and th writing itself felt sloppy and there only to fill pages.
I did like the diversity, the different sexual identities, the mention of gender neutral pronouns and a non-skinny girl as a protagonist!
I'm planning on writing a full review so keep your eyes on this space!
⭐⭐⭐
---
---
Here they are!
What have you read this summer? Have you read any of these books?
Let me know! Leave a comment down below, find me on Twitter or you can send me an email!
xxx
Georgia