So…
Today airs the first episode of season 8 of Suits.
The first one without Patrick J Adams and Meghan Markle.
I am currently deep in denial and I can't believe Katherine Heigl is part of the cast.
But before I begin ranting, some self-promo. You can check out my reviews all the 7B episodes: Hard Truths (11) – Bad Man (12) – Inevitable (13) – Pulling The Goalie (14) – Tiny Violin (15) – Goodbye (16).
Although the title of the posts says: Hopes & Dreams… I don't have any. I don't know what is going to happen. I watched the trailers they have put out and it's so weird!
I think the show will drastically change and it has been changing since season 7, which in my opinion, was one of the worst seasons in the history of Tv. Worst than the eighth season of Friends.
There is still the Darvey question. After Donna kissed Harvey, they fought for a while and then everything was fine! And it is bullshit! If they (and by "they" I mean Aaron Korsh, creator and executive producer) leave it like this, it's bullshit.
After all this mess, they need to get their shit together and bone.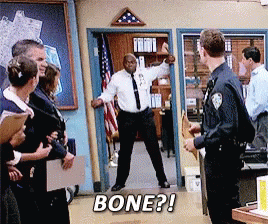 Yes. Bone. (Thank you, Captain Holt)
something else I'm worried about: Katherine Heigl's character Samantha.
If they even think about trying to get her and Harvey together, I'll show up to Toronto and punch somebody in the face. And yes, that is still Aaron Korsh.
Moving on from Darvey and the feeling of utter despair that comes with wanting Donna Paulsen happy… Katrina.
I love Amanda Schull's character Katrina. She is a great character and her banter with Louis is hilarious. They are the perfect comedic duo of the show. I can't wait for them to have a ton of scenes together.
Another character I'm happy to see again is Alex (Dulé Hill). At one point during season 7 he vanished and then suddenly came back, but now he is a regular on Suits and I am sure I'll have a lot of screen time.
I've already briefly talked about Katherine Heigl and, to be fair, I can't comment. I can't say anything because I haven't seen her on Suits. I can't judge her performance or whether or not I'll like her character.
Stay tuned for a lengthy review on Thursday with all my thoughts and comments. (which will have been previously shouted at the screen, directly to Aaron Korsh).
Uh! Wait! I almost forgot about Robert Zane joining the team! I'll be merging with Pearson Specter Litt and troubles are ahead! Things will definitey NOT be easy.
That's it.
I am not allowing myself to have any hopes or dreams because I am sure they will be shattered in a matter of minutes at the beginning of episode 1.
I'll see you on Thursday. Me and my rage will be back.
xxx
Georgia