I've talked extensively about my love for Brooklyn Nine-Nine on this blog and I'm not about to stop now!
Season 5 has been perfect.
Usually by the fifth season, a show is starting to deteriorate but Michael Schur, Dan Goor and all the writers and producers have preserved its high quality.
There are so many perfect episodes and I am still not sure I can pick my top 10 favourites. I loved every minute of every second of the 22 episodes. I wish I could watch it all over again as if it t were the first time.
If only that was possible!
The Big House pt 1-2
EPISODES 1 and 2
---
Halloween
EPISODE 04
---
The Venue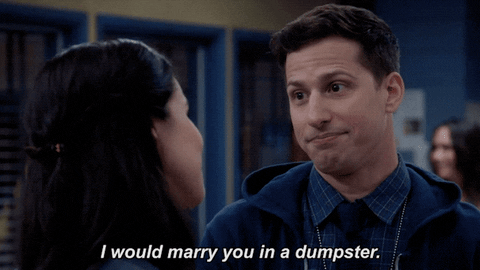 EPISODE 06
---
99
EPISODE 09
---
Game Night
EPISODE 10
---
Safe House
EPISODE 12(my review)
---
The Negotiation
EPISODE 13(my review)
---
The Box
EPISODE 14(my review)
---
Show Me Going
EPISODE 20(my review)
---
Jake and Amy
EPISODE 22(my review) and Peraltiago
---
Of course, the best episodes of season 5 of Brooklyn 99 are all 22 episodes.
There is no doubt in that. But these are the ones that made me laugh and/or cry the most. I love this show and I'll never get tired of talking about it.
I really want to know your favourites!
Please leave me a comment or tweet at me @georgiasblog1 or email me!
NINE-NINE!!!
xxx
Georgia