It's finally summer time!
I've finished my exam session almost a month ago, the concert I helped organising went perfectly and my birthday was barely acknowledged. (I'm not complaining it's exactly what I wanted)
3 weeks at the beach, no internet, no people (aside from my extended family) and so much relaxing. I am excited to go. I'm bringing lots of tv shows, books, music… I plan on relaxing from the moment I wake up to the minute I go to sleep.
There is one huge downside: no internet.
Therefore, I have a list of show I'll be bringing with me.
---
KILLING EVE
I had heard "Grey's Anatomy" 's Sandra Oh was coming back to TV but I didn't make a big deal out of it. Until now! I should have kept an eye on it because it is created, produced, directed and written by Phoebe Waller-Bridge, who is also behind "Crashing" and "Fleabag" and was in Broadchurch with my main man David Tennant. And not to mention the other protagonist of the show, Jodie Comer. She played Kate in the BBC's "Doctor Foster".
I don't really know what the story is about. I've tried to avoid it as much as I could. I want the element of surprise. I know it involves Spies, the MI5 and an assassin. So I'm super intrigued.
---
THE BOLD TYPE
I can't believe this show escaped me as well! I've heard it's quite a feminist show. (apparently mostly white feminist, but feminist nonetheless.)
It's inspired by the life of the former Cosmopolitan editor-in-chief Joanna Coles. I have no clue who she is and what the magazine is about, so I'm going in knowing nothing. Literally. Apparently, it's a recurring theme in this post.
I've heard people say it's like a modern version of "The Devil Wears Prada". I'll let you know my thoughts!
---
I know. I'm trash.
I swore to myself I wasn't going to watch this. But my sister is kind of buddy-watching it with one of her friends and I gave up. This is so addictive. Just like Pretty Little Liars. I should hate this but I love it so much.
It's so bad. Like, really bad. The acting, the dialogue and directing is garbage but I can't stop thinking about it. Well done, The CW. Well done.
This show is about Riverdale, a small american town where a young teenage boy dies and secrets start to unravel. It's basically "Pretty Little Liars" meets "Gossip Girl" (there is an actual narrator Gossip Girl-style) and "Twin Peaks".
It's garbage and I love it.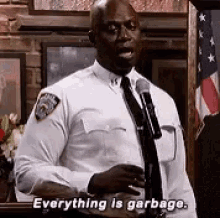 ---
FLEABAG
Phoebe Waller Bridge's Amazon and BBC Three's TV show about a woman trying to live her London life after experiencing a tragedy.
I can't believe I have to say this again but… I know very little about this one too. I know there is Olivia Coleman (KWEEN!!!!) and a racy scene involving her and a video of one of President Obama's speeches.
It received great reviews so I can't wait to see it. I say this even though it has been on my TO-WATCH list for at least a year and a half.
---
Here is part 1 of the list of shows I'll be bringing with me on holiday. YES, I'M NOT JOSHING AROUND. IT'S PART 1, PEOPLE.
Have you got any recommendation for me? Are there any shows you think more people should watch? Let me know!
You can find me here, or on Twitter or you can send me an email!
xxx
Georgia