My babies are getting married.
I can't believe that after 5 season, Jake Peralta and Amy Santiago are tying the know and they will be spending their lives together.
I've been waiting for this moment for a long time and the best, purest and most healthy couple on TV is finally getting hitched.
Without further ado, here are the best bits!
---
There are no best bits.

Everything was perfect.
and I had no doubt whatsoever. I wasn't nervous I would be disappointed. I love the writers and the show runners. I had total and complete faith in them.
It's been around 6 hours since I saw the episode and I still can't explain how much I loved it.
I love how, in the end, they didn't really care where they would get married, how Jake wasn't discouraged by the events and immediately asked Amy to go to City Hall with him, how honest and non-cheesy the vows were, how perfectly they reflected their relationship, how Jake had everything Amy could have possibly want, from nicotine patches to her allergy medications…
So I will pullet-point some of the other billion things I loved and then…. GIF TIME!
Charles being worried he ruined the wedding
Teddy trying to propose to Amy 3 times.
No stupid traditions of not seeing each other before the wedding
Jake complimenting Amy a billion times
The Captain and Cheddar trotting down the aisle in rehearsal
Amy's dress was gorgeous
Jake's "in love" face
Boyle threatening to kill himself multiple times in fear of having ruined Jake and Amy's wedding
THE VOWS
Will Holt be commissioner of the NYPD?
GINA FREAKING RODRIGUEZ
Fred Armisen
…. so every single thing in the episode…
and now… GIF TIME!
YOU LOOK GREAT
s01e01 – s05e22
I MEAN!!!! Straight from th pilot!
Gif by b99.tumblr.com
---
LIFE IS UNPREDICTABLE
Gif by beatcopjake.tumblr.com
---
ROSA AND ALICIA
I love this bi icon!!!
And I particularly love this statement:
Gif by davis-viola.tumblr.com
---
ONE FOR YOU AND ONE FOR YOUR WIFE
Gif by juliadorable.tumblr.com
---
YOUR BUTT IS THE BOMB
GIF by sergeant-santiago.tumblr.com
---
YOU'RE MARRIED
GIF by monty.green.tumblr.com
---
I can't believe they are actually married. I was absolutely perfect. I love everything.
The entire Brooklyn99 fandom can be perfectly represented by this sequence of GIF of Charles Boyle:
I love him.
GIF by sergeant-santiago.tumblr.com
---
I am so happy. It is the best finale I could have hoped for. I am in love. I can't wait for mid-season 2018/2019 when Brooklyn99 comes back for a 6th season on NBC.
Check out the links of the blog under the pictures. I couldn't directly link it because WordPress was being a bitch.
Anyway, I had the best time. It is so progressive, intelligent and powerful. And of course it's completely stupid and funny.
If you haven't already, I can't recommend you enough to check it out.
You won't regret it.
I'll leave you with two screenshots of an interview from "The Hollywood Reporter" of Brooklyn99's creator and executive producer, the king, the genius, the best show runner in the world… Mr. Dan Goor: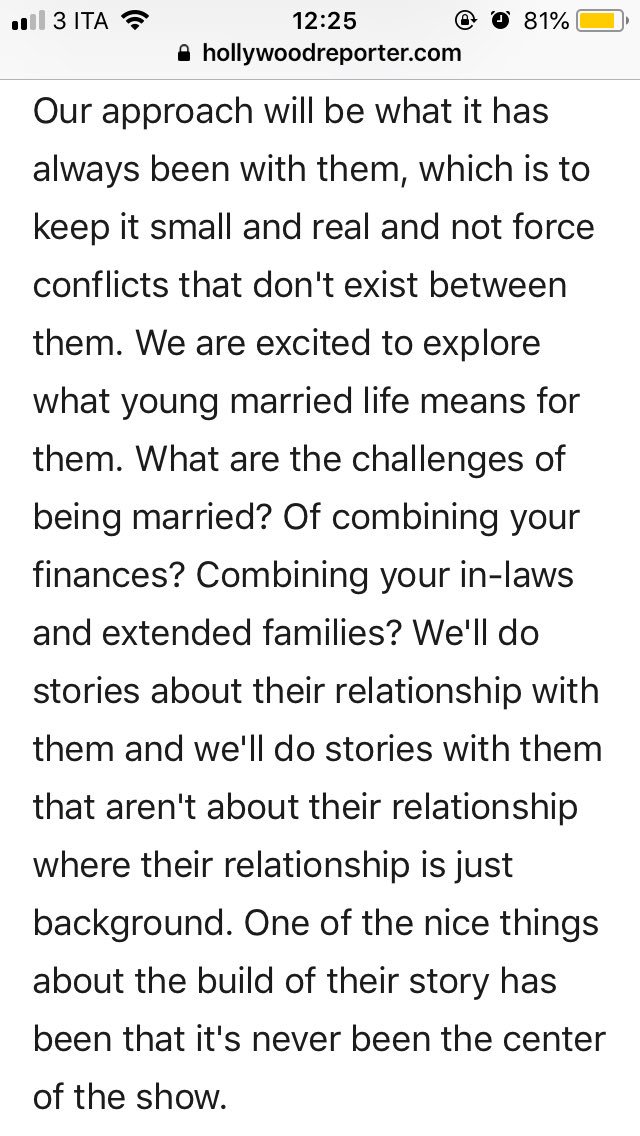 THIS IS EXACTLY WHY I LOVE DAN GOOR AND MICHAEL SCHUR SO FREAKING MUCH.
Goodbye for now, Brooklyn99. See you in 2019 with a bunch of new episodes.
I love you.
xxx
Georgia