Yesterday I talked about social issues in general but today I want to focus my attention of how the LGBTQ+ community is represented on Brooklny Nine Nine.
There is so much diversity and topics like sexuality and, because people are stupid, homophobia.
Captain Holt is an openly gay black high ranking officer in the NYPD. He is out and proud and has been fighting discrimination for the entirety of his career.
Speaking of Captain Holt,
African-American Gay and Lesbian New York City Policeman's Association
Holt founded this organization to unite gay policeman and women on the force and create a respectable organization.
He is obviously incredibly proud of it and after another young police office runs against him to become president of AAGLNYCPA, he decides to step down, let him run and implement his vision to improve the program. He realises that AAGLNYCPA would be better off with a leader younger than him that didn't have to fight gainst the system like he did.
Holt stated many times that his racist colleagues excluded him from activities and events because of his sexuality.
First in "The Party", in which the 99 is invited to the Captain's birthday party and Jake soons discovers that his husband Kevin isn't a fan of cops. The reason? He dislikes detectives and police officers because of what they have put the Captain through: the discrimination, the non-promotions, the comments.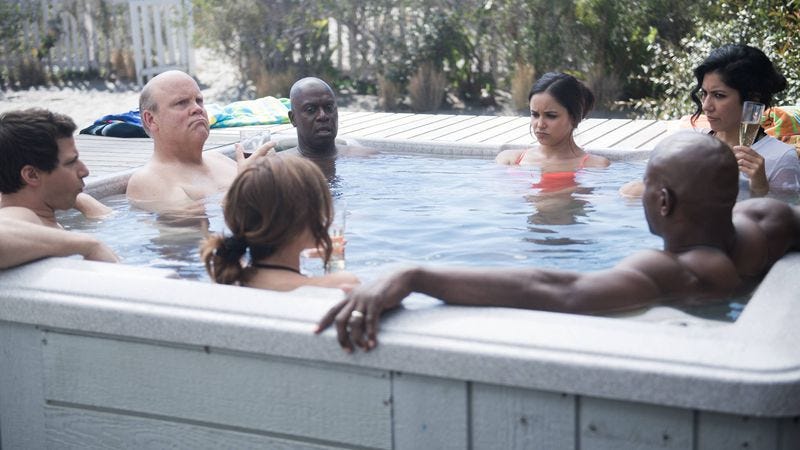 Another episode in which it's mentioned is "Beach House". Jake and the squad are planning a weekend away to Boyle's ex wife's beach house. It was supposed to be a fun couple of days of getting drunk and making fun of the boss.
But the Captain tells Jake that he never had the opportunity of "joshing around" with his own squad because they discriminated him for his race and his sexuality.
Holt is such a strong a role model!!!
---
In one of the latest episode of season 5, Rosa officially came out to the precinct and to her parents as bisexual.
YAY BI PRIDE!!!
I was an amazing moment. So powerful. It was so important to have a Latina bisexual character coming out on television. And on top of that, it was wonderful to see Rosa's softer site.
THE. CHARACTER. DEVELOPMENT. , PEOPLE!!!!!

AND REPRESENTATION MATTERS!!!!
I love it so much. And Jake being supportive and there for her!!! BEAUTIFUL!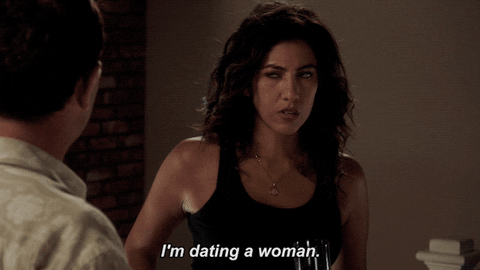 ---
I wish you hadn't said that
Jake punching one of his childhood heros because he was a homophobe was AMAZING.
The author of his favourite book as a child about cops in the 70s turns out to be a terrible person and insults Capt Holt, Jake punches him in the face despite the dire consequences. I think it's a great moment that shows people to stand up for what they believe in and on top of that, just stand up against homophobia and discriminatory comments.
---
– Transgender Support
Brooklyn 99 has also been very vocal about the transgender community and the horrible discrimination they face.
Jake mentions how tough prison is, especially for trans-people.
Jake: "The only people less popular in here than cops are snitches."
Warden: "Let's be honest, it's not great in here for trans people."
J: "That is so true."
W: "They have a hard time."
J: "It's a problem."
In another scene, in a different episode, Jake shines a light and comments and movie saying: "it only get overtly trans-phobic towards the end".
Despite not having a member of the transgender community on the show, it still mentioned and it's still addressed.
And as I have said before, REPRESENTATION MATTERS.
---
It's a slightly shorter post then the others, and the LGBTQ+ Is mentioned so many times that I would have to transcribe episodes! I wanted to focus on this topics because I thought they were relevant and powerful. I'm so happy that the show is so diverse, not only regarding race but also sexuality and sexual orientation.
You are doing an amazing job, Brooklyn 99! I love you.
xxx
Giorgia