After yesterday's post entirely dedicated to the amazing Gina Linetti, I felt like talking about someone completely different: Captain Raymond Holt.
Played by the wonderful Andre Braugher, Captain Holt is the most stoic, uptight, strict, adorable, strong, and unintentionally funny character on Brooklyn Nine Nine.
What makes the show special is its diversity and Holt couldn't be a better representation of it. Being a black openly gay police officer in the 70s and 80s wasn't easy for him but his tenacity and career oriented mind made him rise to his current position. What a man!
He has an adorable dog named Cheddar and his relationship with his husband Kevin Cosner is GOALS!
Here's a list of my favourite Captain Holt moments:
– PUNK
Nobody says "Punk!" like Raymond. It's hilarious and he looks terrifying.
– No Regrets
Other hilarious exchanges with Madeline Wuntch include:
– BINGPOT!
– Captain Raymond Holt and Dr. Kevin Cosner
– Heterosexual Holt
Jake is right… He is such a dog!
– Booooooooooooone!
How dare you Detective Diaz?! I am your superior officer!!!!!
SO ICONIC!!!!!!!!!!!!!!!!!!!!!
– I've never been more shocked!
The juxtaposition between his face and his words is perfect.
– Holt's Balloon Arch
This was one of the most hilarious things ever! Holt's obsession with the balloon arch!!! COME ON! SPECTACULAR!
– PAIIIIIN!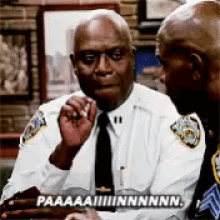 ICONIC
– STOIC HOLT
And last but not least…..
– YAS QUEEN!
---
---
Hope you enjoyed this! I had so much fun writing it and finding the perfect gif.
There are, of course, so many more GIFs and moments and so much more. You just have to find out by watching the show!
xxx
Georgia