One done. One more to go.
I took one of the two exams I've been studying for and I got 30.
(FYI, It's the highest mark. I don't know how the other universities in the world use as a scale).
It was an oral exam about a 17th century poet, John Donne, and for some reasons Shakespeare's King Lear.
I was such a nervous rack in the days before the exam! I had gigantic spots on my face and my back, I felt a huge weight on my chest that made breathing normally a little bit difficult.
I haven't had the best university experience. Due to a variety of personal problems and struggles. I've dedicated a large portion of this blog to that and I'll leave the links at the end of this post if you want to check them out.
But, yeah…. I did it! And I didn't even cry! NOT FUCKING ONCE!
I wasn't expecting such a good mark but I'm proud of myself. Yes, I'm saying it. I am proud of what I've accomplished.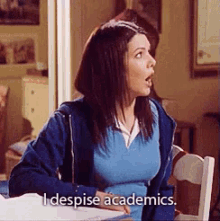 But it has put me in a happier and more willing mood to continue my academic career even if, as Lorelai Gilmore eloquently put it, I despise academics.
I hope I'll keep this up and I won't fall in the spiral that brought me down last time.
Anyway… I GOT 30!!!!!!!!!!
---
---
Here is the list of all my uni related posts. Most include some sort of mental breakdown. You've been warned!
21st Sept 2016 – First Year At Uni
6th Dec 2016 – Taking a Break
9th March 2017 – Letting It All Out
15th April 2017 – Missing Two Trains, University Stuff and headaches
19th June 2017 – Failure
8th Aug 2017 – It's Back
9th Sept 2017 – Trouble at Uni, exams and breakdown