I found this great group on Goodread.com that gives you monthly recommendation on books that other people enjoyed!
It think it's a great wait to discover novels that otherwise I would have never discovered.
So, here is my personal list of books I'm thankful for:
I loved this book. Absolutely loved it. I've been telling every single person I know to read it. I've already talked about this book on my blog, but frankly more people need to get their hands on it.
This is current "The Daily Show" host Trevor Noah's autobiography. He was born during the apartheid in South Africa and since his mom was black and his father was white, he should not have existed. He was a crime.
He talks about what it was actually like growing up in that time: the corruption of the police, poverty, church, faith, racism, feminism, equality and more.
You can read my in-depth review of the book here.
This is totally different genre. Polar opposites. I studied a couple of his poems in high school and I found this book for free on amazon. I purchased it and I read it. I had zero expectations and I was so surprised of how much I enjoyed myself.
Weirdly enough, it holds a special place in my heart because it was the first collection of poetry I loved. I hated poetry in school. Like, really hated it.
I still find it stupidly complicated, but I am so happy I liked it.
Let's finish the post the way we started it: with a comedian.
I read Aziz's book in summer 2016 and I adore it. I think about it to this day. It's so funny and interesting! Aziz and Eric Klinenberg went around America and the world to conduct focus groups about finding romance and relationships. He talks about types of love, navigating the dating world in his modern age and the difficulties people encounter nowadays.
Also, Aziz's obsession with food is featured a lot in the book and I love it. I learnt a lot from it and I'll probably read it again in a not-so-distant future.
Another genre! This time non-fiction!
I had heard a lot of people talking about this and I am so happy I listened to them. This book is so important.
It's a fabulous introduction to feminism. The author talks about what is means to be a feminist in the 21st Century, about issues both in the US and in her native country Nigeria, problems women face everyday in today's society and (sadly) more.
I absolutely loved it and it has made me want to expand my knowledge on feminist literature and I currently have a pretty big TBR list of books I'm interested it.
I recommend it to everyone. Both man and women. But especially men. They should educate themselves and learn what feminism truly is. Equality.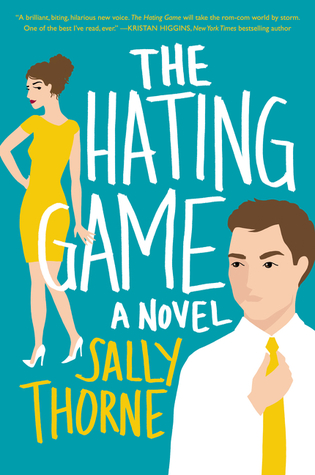 This is probably the best romance book I've read.
I read it in two days, I truly couldn't put it down. The story is about Lucy Hutton and Joshua Templeman, two co-workers at a publishing company that hate each other. When they are up for the same promotion, they start to realize that maybe they are not enemies after all. I know it sounds cheesy and corny, but it's very good. I've recommended it so many people!
It's such a fun and light-hearted rom-com. I definitely hope someone will buy the rights for the movie. It will be a guarantee success. It was one of the books I've read this year that made me fall back in love with reading.
I can't wait to read Sally Thorne's second novel!
---
---
---
Hope you enjoyed this post! Let me know what you think about these books (if you've read them).
I'd love to start a discussion.
xxx
Georgia