My favourite night in the world falls on September 17th this year. THE most exciting day for any TV lover like me.
THE EMMYS
And this one is special: Stephen Colbert is hosting. I LOVE LOVE LOVE LOVE him. I religiously watch "The Late Show with Stephen Colbert" every single day. Along with all the other american talk show on late night. I have no life, no worries.
Last year, I reviewed every category deciding my picks for the awards. But I quickly realised I hadn't seen everything. And I can't get into a bunker and just bingewatch every single show Andy-Samberg-style.
So yeah. This is basically me in a sketch.
This year, I decided to talk about the shows I haven't seen… but I intend to watch at least a few episodes of, so I can't actually have an opinion on most of them.
I watched the nominations live and browsed through all the categories and compiled a list of the ones I haven't seen. And here they are:
This Hulu's most popular series and I've heard it has received glowing reviews. I'm trying to find time to listen to the audiobook before watching the show: it's read by Claire Danes. She is marvelous. Absolutely brilliant. I want her to narrate EVERYTHING.
It has been nominated in loads of categories both for the serie and for the performances of the actors. It's about a not-so-distant future in which women are controlled by men and their only purpose is to bear their children. They have no rights and are completely submissive to the men. What a fucking nightmare.
The Handmaid's Tale is nominated for 11 (!!!) Emmys, including lead actress, supporting actress, directing and writing, guest actress and most importantly outstanding drama series.
I have heard great things about the serie, especially about Donald Glover's performance. I literally knew nothing about it, apparently it's about rap music and the main protagonists are two cousins. That's it. Nothing else.
It is supposed to be a comedy but from what I've seen from the promotional posters and a clip on a talk show, its doesn't look like it's a comedy. It has the vibe of a drama! It sounds really interesting and completely different from what I usually watch.
After watching it, I have to admit. It is genius. A fantastic serie and has a subtle comedic humor that is magnificent.
HIGHLY RECOMMEND
It's nominated for six Emmys, including outstanding lead actor in comedy serie, Best comedy serie, best writing and directing and more.
I have seen the first two episodes of the show six months ago, but I wasn't really into it. My friend said season one is actually the best and the more it goes on the crazier and improbable it gets.
The show is about two women to find out that their husbands are gay and in love with each other, and that they have been in a secret relationship for years and years. It's completely crazy! It's basically about them being in their 60s, and trying to navigate life alone after this huge revelation.
Jane Fonda and Lily Tomlin are both nominated for outstanding lead actress in a comedy serie.
I'm already familiar with "Veep", I have seen the first 2 1/2 seasons but I wasn't taken with it. I didn't really get it. But in the past two years I've been super interested in American politics, watching the 2016 presidential election and following Donald Trump in the White House, and so I hope that this will allow me to understand a little bit better the show. The show is about Vice President Selina Meyer (Portrayed by Julia Louis-Dreyfuss) and her job at the White House, navigating through politics and giving life in Washington DC both a very sad and a comedic view. The show has won an incredibly large amount of awards: Emmys, Golden Globes… so basically it's a great candidate for the award.
I have watched most of the episodes in season 6 and read on Wikipedia what happened in between.
Veep is nominated for 15 Emmys including outstanding lead actress, oustanding supporting actor and actress, outstanding directing and writing and outstanding comedy serie.
How to get away with murder
I remember I watched the pilot of "how to get away with murder" the day after you came out. And sadly, I was not impressed. Maybe I wasn't in the mood of such a glossy and polished luck, so I put it down. I know viola Davis has been nominated for Amy for her role in "how to get away with murder", but I didn't find it fascinating at all. The plot didn't speak to me I wasn't interested in the topic. It is a Shonda Rhimes production (I have been a fan of Grey's Anatomy for quite a long time and I've watched the first three seasons of scandal), but watching another one have her shows didn't appeal to me. Aside from this, I am definitely going to watch a couple more episodes, so I can actually see if both she and the show have a shot on winning an Emmy award.
Viola Davis is nominated for outstanding lead actress in a drama serie and Cecely Tyson for outstanding guest actress in a drama serie.
I have heard so many people talk about this show. Actually, they talked about the book that the HBO serie is based on. I know very little about it. I know it stars Nicole Kidman, Reese Witherspoon and Shailene Woodley and it's about a group of housewives. And there is a murder.
On top of that, the show talks about really serious topics and problems. I'm really interested in both of them but I think I'll try to read/listen to the book before getting to the series.
It has received high praises and Liane Moriarty, who wrote the book, has published other successful novels like "The Husband's Secret".
"Big Little Lies" is nominated for 10 Emmys, including lead actress and supporting actress in a limited series, outstanding directing and writing and it is also nominated for Outstanding Limited Series.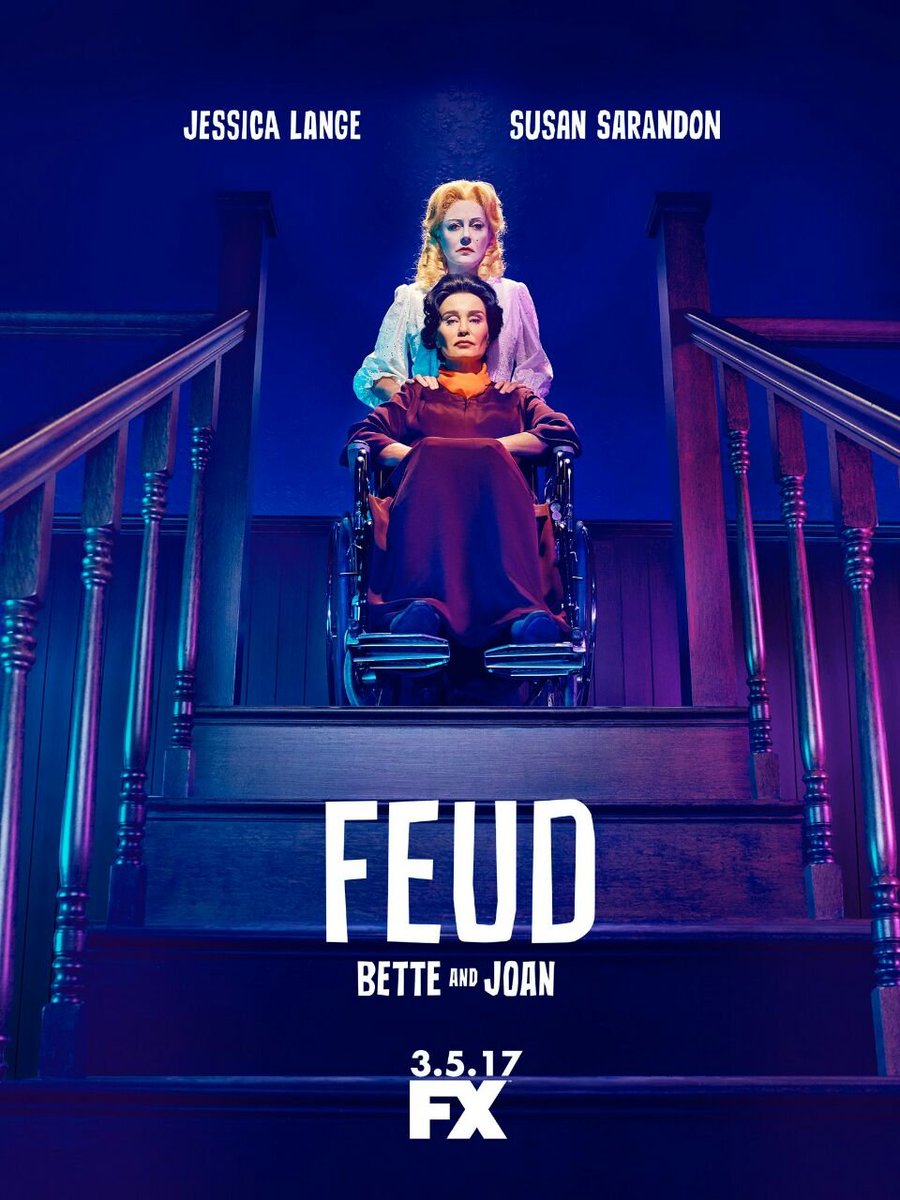 I have literally no idea what this show is really about. No clue. I say a few posters while scrolling through one of the Emmy issues of "The Hollywood Reporter".
Th main stars of the show are Susan Sarandon and Jessica Lange and from what IMDb tells me, it's an anthology series following famous feuds including Bette Davis and Joan Crawford and Prince Charles and Princess Diana.  And it's created my Ryan Murphy (he also created shows like Glee and American Horror Story and he is a producer on American Crime Story).
I am even more confused now. But it sounds like an incredible show!
"Feud" is nominated for 15 (!!!) Emmys like lead actress and supporting actress and actor in a limited series, outstanding directing and writing, outstanding main title design and it is also, just like "Big Little Lies" nominated for Outstanding Limited Series.
Just like with "Feud" I know nothing about this TV Serie. I think I saw a clip of "the night of" on Stephen Colbert's late night talk show, but it didn't catch my attention. I was more interested in the jokes about Donald Trump! 😎
This HBO program stars Riz Ahmed and John Turturro. From what I have understood, his character has a wild night with a strange girl he just met and the morning after, he finds her murdered in her bed. He is questioned and brought in by the police, and the story unravels from this point on.
It is nominated for 10 Emmys including outstanding lead actor, outstanding supporting actor and for upstanding directing and writing.
Completely forgot I had to watch season five of "House of Cards". Like, totally. I saw the folder in my computer and then I almost shouted "oh my God! I haven't seen House of Cards yet!"
I haven't seen season for yet, so I'm quite far behind. I really liked season one and two. Then I lost interest as the serie progressed but I think that in this political climate, "House of Cards" is definitely going to reflect the current presidency and the chaos in the White House at the moment. I don't think I'm going to get to watch this, mainly because I really want to catch up on season four and enjoy it. It's a great show, I have seen it before but I am, of course, missing season five.
It is nominated for 6 Emmys including outstanding lead actor and actress in a drama, outstanding supporting actor and outstanding drama serie.
---
---
So this is my list! It is almost complete… I should have posted this a long time ago but it took me AGES to write this! There are a few things I didn't include otherwise I would have had to spend literally my entire life in front of the TV, watching stupid programs.
Anyway, hope you're just as excited as I am to watch the Emmys on September 17th. It's going to be GREAT. Stephen Colbert will do a fantastic job.
Let me know if you have seen any of these shows and whether you recommend them or not.
One last thing, this is probably one of my favourite posts I have ever done. I just love TV. So freaking much.
xxx
Georgia 🌈