I haven't had the greatest month. Not at all.
Life wise, I started studying for my driving license for the 5th time. I contacted my professors at Uni for material for my exams. I cried and freaked out about it for days, but nevermind. I've been anxious for weeks and not sleeping very well. And felt like shit for the longest time. But it's okay!!! I'm not extremely sad! *said in the most sarcastic voice ever*
To get my morale up, I started writing down all of the things I like this month.  But then I happily realized that the list was longer than expected. Soooo, I'll be splitting them in two and in this post, I'll focus on the general stuff and the next one will be all about beauty.
Enough blabbing, let's get on with it.
Stationery clips and Stabilo Pen
I got these clips at "Tiger" on September and until recently I had lost them! I basically took apart my bedroom, searched everywhere in the house and of course my dad had hidden them on top of the cabinet in the kitchen. COME ON. But I recently found them and I've been using them for literally everything. They are absolutely adorable and unbelievable cheap. I'm in love.
On the other hand,  I stole this pen from my sister only to figure out that it was actually my mom's and that she was pretty angry she lost it. I'm still keeping it because it's amazing. And I love how my handwriting turns out. I'm so going to re-purchase this and if there are, I'm without a doubt getting it in different colours.
Gilmore Girls Fanfictions
I'm a Fanfiction nut. I have 2 apps and I even paid 0.99€ for the premium version of one. And I have no regrets. I have almost 400 stories in my favourites and I have read A LOT OF THEM multiple times. But since I got obsessed with Gilmore Girls and in particular Jess and Rory, I've been basically reading the entire section on FanFiction.net. Here is a selection of the ones I've most enjoyed: Stop Running, They Say it isn't easy, The Runaways, The KidThe Kid… Some of them are filled with clichés and predictable plots, but honestly: who fucking cares.
March marked the wonderful beginning of my relationship with Netflix. And so far, it's been great. There are a lot of shows that are missing or aren't complete but I've been loving it. I've binge-watched all 6 seasons of New Girl, started watching "Grace and Frankie", skipped from one episode to another of "Friend" and I have the possibility of choosing between 7 seasons and the Year in the Life special of Gilmore Girls.
I've been really into stand up comedy recently and Aziz Ansari and Trevor Noah are SPECTACULAR. Highly recommend.
This is Us  – Last three episodes marathon
I'll be brief because I'll start crying. I saved the last three episodes until the finale came out and then binge watched them. And then watched "The Aftershow" on Youtube. I was devastated, it has scarred me for life and I'm in love. Milo Ventimiglia and Mandy Moore were unbelievably talented in the last episode and Sterling K Brown made me had emotions I didn't even know human were capable of feeling. Can't wait for season 2. I'll be crying.
I spoke about this at length in a recent post and the 12 weeks I've spent with the bachelor nation watching the show was the weirdest, most amazing ever. It's the most ridiculous programm I've seen in my life and italian television is just as bad.
Grey's Anatomy s13e16: "Who Is He (And What Is He to You)?"
I've been regularly watching Grey's Anatomy for 3 years now and this episode finally resembled the greatness of the show's earlier seasons. After Cristina and Derek's departure (and previously Mark and Lexie's) the show felt weird. But this episode was finally GOOD. Jesse Williams isn't only a good looking person and an involved activist, he is pretty talented and he finally had the chance to shine. His presence on the screen was spectacular, captivating and graceful. I already liked him, but it was after this interview with Trevor Noah on "The Daily Show" that I started appreciating him more. The episode itself was great, full of drama, love, complicated relationship. One of the best "on the character" focus-episode they have produced.
This next thing is not television related and it's a book.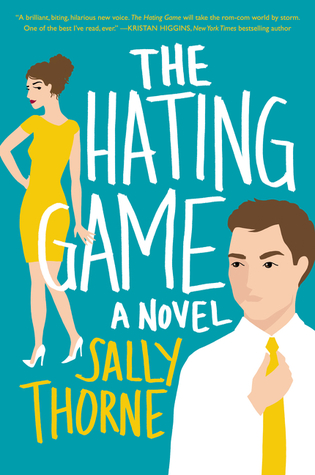 I don't even know how I found out about this book, but I'm so glad I did. This is exactly the chick-flic that I LOVE! It's not dumb like most of them, there are no sexist messages, the story itself is not something revolutionary and particularly new but I read it in 2 days. To give a brief summary, the story is about Lucy and Joshua, two co-workers who despise each other but are both up for the same promotion. But as they try to win the hating game, they might discover that they don't dislike each other that much.
At times there are cliché moments and some typical romantic stuff, but I absolutely loved it. There is no bullshit insta-love, no unnecessary sexy times, no soul mate shit. If they don't make this into a movie, Hollywood is losing a great opportunity for a brilliant brand new rom-com. PLEASE MAKE IT INTO A MOVIE! OR EVEN BETTER, A TV SERIE! PLEASE!
---
That's it! These were my non-beauty related things I loved during the month of March. To see what I've been loving makeup-wise, here is the link for the blog post!
Hope you enjoyed this! Have a lovely day!
Georgia